Bishop Participates in World Meeting of Families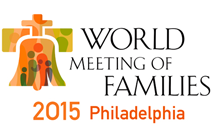 Bishop Burkat will join other Christian and interfaith leaders in participating in the opening ceremony and Mass for the World Meeting of Families on Tuesday, Sept. 22. Archbishop Charles J. Chaput extended the invitation on behalf of the Archdiocese of Philadelphia. Many Lutherans are helping to welcome Catholics from all over the world to Philadelphia for this meeting and the visit of Pope Francis.
Below is a copy of the bishop's letter accepting the invitation:
September 18, 2015
Archbishop Charles J. Chaput, O.F.M. Cap.
Archdiocese of Philadelphia
222 North 17th Street
Philadelphia, PA 19103
For this reason I bow my knees before the Father, from whom every family in heaven and on earth takes its name. — Ephesians 3:14-15
Dear Archbishop Chaput,
I greet you in the name of our Lord and Savior Jesus Christ on the blessed occasion of the Holy Father's Papal visit to Philadelphia, and the great privilege for the Archdiocese Philadelphia in hosting the World Meeting of Families.
Many Lutherans are welcoming Catholic families from all over the world in their churches and in their homes. We all want to extend hospitality to the Body of Christ to show our excitement and respect for you and the Holy Father by caring for the faithful that are making the pilgrimage to our city of Brotherly and Sisterly love.
Thank you for the invitation to participate in the Opening Ceremony and Opening Mass of the World Meeting of Families on Tuesday September 22. "I'll be there!"
I have made arrangements to stay the weekend in Center City in order to enjoy this festival of family and faith, and to make myself useful around the city and at Holy Communion Lutheran Church on Chestnut Street and Trinity Lutheran Church, South Philadelphia, where 200 pilgrims will be staying for several days.
The Southeastern Pennsylvania Synod of the Evangelical Lutheran Church in America, supports the Christian principles and priorities that the Holy Father has made public and compelling: healing of our planet; hope and help for refugees; for persons experiencing homelessness and poverty; for the sick, the marginalized, the hungry, the incarcerated; and of course families.
It has been an honor and joy to work with you on the Religious Leaders Council, and I pray you will continue to lead the Archdiocese with wisdom, compassion, grace and faithful discernment of God's promise to accomplish abundantly far more than all we can ask or imagine through those who love Christ.
Now to him who by the power at work within us is able to accomplish abundantly far more than all we can ask or imagine, to him be glory in the church and in Christ Jesus to all generations, forever and ever. Amen. — Ephesians 3:20-21
With and in Christ,
+ Claire S Burkat, Bishop