Bishop, Bishop messages, Communications, Roster
April 14, 2022 in
Bishop: "Lead With the Love of Christ"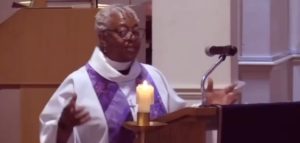 Bishop Davenport offered words of inspiration and challenge in her sermon at the 2022 Chrism service yesterday, based on Ephesians 5:1-2: Therefore be imitators of God, as beloved children, and live in love, as Christ loved us and gave himself up for us, a fragrant offering and sacrifice to God.
"The Apostle Paul encourages us as beloved children of God to live in love as Christ loved us," the bishop said to the hybrid gathering of rostered ministers and congregational deacons and assisting ministers, which included blessing of oils for congregational use.
Watch Bishop Davenport's sermon
.
Photos from the Chrism Service: