2016 Assembly, Assembly, Bishop, Bishop messages
May 13, 2016 in
'A New Dawn for Christ's Church'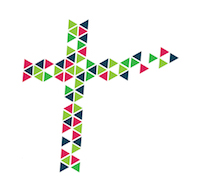 When Martin Luther seized the changes made possible by the printing press, he couldn't have begun to imagine the exponential changes of our Internet age, Bishop Claire Burkat said in her address to the 2016 Synod Assembly.
Despite the stresses posed by constant connectivity, racing schedules and financial pressure, "the Holy Spirit is bringing a new dawn for Christ's Church," the bishop said.
---
"We are still reforming!"
A glimmer of that dawn can be seen in the characteristics of emerging generations that have little interest in institutional religion, value diversity of all kinds, distrust authority, and are always online.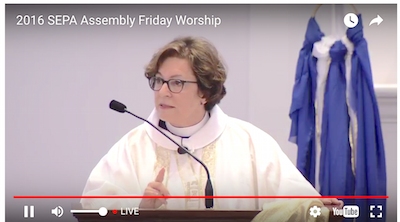 The disconnect is significant: Almost two-thirds of the population of Southeastern Pennsylvania is under age 44, while Lutherans skew older than that and nearly half of synod pastors will retire in the next 10 years.
---
"To reach this very young culture we need to change our old church culture now," the bishop said.
"We don't need to change the core Christian message…but we do need to change the ways and the places by which we proclaim Christ" to people who are now four generations removed from cradle-to-grave faith formation.
The Forward Together in Faith campaign is a response to this call, a three-year window to reimagine how we are the church and resource our future. The goal is to raise $2.5 million by 2019, to create momentum for this synod to move into the next phase of ministry. Watch video:
"We need to stop just talking to people; we need to invite them to tell their stories," the bishop said. We need to show concern for all people, and get out of our buildings.
---
"We are not acolytes of the temple. We are ambassadors for Christ."
Every church can't do everything; synodical ministries are happening that we do together. The Bishop showed a video about Living Gospel Ministries' life-changing work with formerly incarcerated people as one example. But every congregation has something to give, she said. She shared how Jerusalem and St. Michael's churches in Sellersville collaborated on a community garden to supply local food pantries, and how small faith communities like St. John's, Ambler and Kairos Community partnered in The Well women's shelter, organized by the Welcome Church
The Bishop said that such energy and collaborations are creating new possibilities. After Luther's 95 Theses there was a world wide revolution, a diversity of denominations "like pollen spreading." We, now, are on the cusp of another breakthrough. We are encouraged to proclaim the Good News, to not lose heart, to go "Forward Together in Faith", and watch for the doors God is opening for us.