Congregations, Disaster Response, News
October 27, 2022 in
After Tornado, UDLC is a Community Rock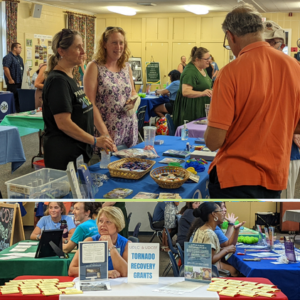 When an EF-2 tornado struck sections of their community on September 1, 2021, the people of Upper Dublin Lutheran Church went into action.
The winds and flooding spawned by remnants of Hurricane Ida left 140 families displaced and 1,400 homes with severe damage.
Almost immediately the church became a hub to distribute supplies and dispense hope to affected residents. In the year since, UDLC has
issued grants totaling more than $51,000 to community members for basic needs
offered mental health support to congregants and community members wrestling with the trauma of dislocation and a long recovery process
collaborated with local, state, and national organizations to coordinate the ongoing response
hosted a resource fair and inter-faith service to mark the 1-year anniversary during UD Strong Week August 28-September 1
Next month the congregation will provide 150 ready-to-heat meals on Thanksgiving morning to families recovering from the storm or other financial circumstances. UDLC is partnering with Kiwanis of Ambler, Giant Food Stores, and a variety of local donors to provide a comforting holiday meal.
"We already knew that we lived in a special community before the tornado, but I think we have all been struck by the depth of neighborly care and concern that has poured out across Upper Dublin," says Pastor Keith Anderson.
For information on UDLC's response and how to contribute to the "Assist UD Tornado Recovery Fund," visit UDLC.org/tornado.