A History-Making Bishop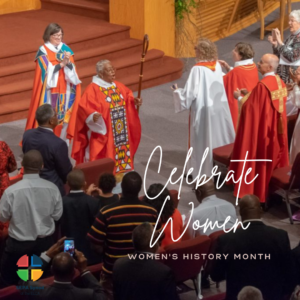 Editor's Note: In May, 2018, our Southeastern Pennsylvania Synod elected the Rev. Patricia Ann Curtis Davenport as the first African-American woman elected as a bishop in the Evangelical Lutheran Church in America. She is also the second woman to serve as our bishop. The first was her predecessor, the Rev. Claire Schenot Burkat. Dr. Addie J. Butler, former ELCA and Synod vice president, looks back on the historic moment:
King David danced praising God – and so did our Bishop! On May 5, 2018, under the unction of the Holy Spirit, Rev. Patricia Ann Curtis Davenport was overwhelmingly elected bishop of the Southeastern Pennsylvania (SEPA) Synod of the Evangelical Church in America (ELCA), by the voting members in Assembly. She is the first African-American woman to be elected a bishop in the then 3.5-million- member ELCA. She was elevated to this position through the rite of installation on August 1, 2018. The service was attended by people from across the country and beyond, and from different walks of faith, including: the Presiding Bishop and several Synodical Bishops (present and former) of the ELCA, pastors of two of Philadelphia's historic Black churches, interfaith partners from Jewish and Presbyterian faith traditions and the Bishop of the North Eastern Diocese of Tanzania.1
Bp. Davenport was "a reluctant candidate, recognizing the many challenges of Christian leadership, tight finances and declining membership among them."2 But God did not call her to this task without equipping her to fulfill it. She was educated and earned degrees at the Katherine Gibbs School of Business, Community College of Philadelphia, Lutheran Theological Seminary in Philadelphia, Urban Theological Institute and the ELCA (certified Level One Coach). She served as a Church Office Manager, Administrative Assistant, Pastor/Mission Developer, Director for Evangelical Mission and Assistant to the Bishop, and Acting Bishop.  Throughout all of these positions – student and professional – she danced to the glory of God!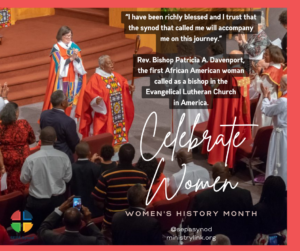 In some way, Bp. Davenport knew she had been called "for such a time as this," but only God knew she would be guiding God's people through the wilderness of the COVID-19 Pandemic. In a recent interview,3 she shared that she led and encouraged the church to be agile: to meet people at their point of need. She helped our rostered ministers understand they are on the front line. They are the church's first responders. Like the Good Shepherd, they may have to interrupt what they are doing – leave the 99 – and go help the one, the one who has the greatest need.
This agility was reflected in our churches: the doors may have been closed but the worship continued. We worshipped online, in parking lots and sometimes in the streets. Bp. Davenport was present among God's people in the SEPA Synod. It was not unusual to have her preach at our worship services virtually! Food pantries/ministries in the Synod may have paused but did not close down. We learned to do things differently and Bp. Davenport was at the helm, leading the change.
We were anxious sometimes. Participation in in-person worship declined. Pre-pandemic, there may have been hundreds of worshippers in the pews and now there are fewer than one hundred. But Bishop encouraged us to celebrate what we have: not scarcity, but a newly recognized abundance. We have Rev. Stacey-Kyle Rea, Assistant to the Bishop for Youth and Young Adult Discipleship leading our youth to the next "Tuscarora Lutheran Retreat." We have Co-Directors for Evangelical Mission working with us on congregational vitality and new starts. The position of Co-Directors for Evangelical Mission is a new and innovative concept under Bishop Davenport's leadership, which has been embraced by the ELCA Office of Christian Community and Leadership.
In SEPA, God has shaped us to make a difference wherever we go. We reach out and help the hungry and persons experiencing homelessness. We fight against gun violence. We support Lutheran Settlement House. With Bp. Davenport's leadership, we walk with and support people where they are. Her image was seen on the sides of SEPTA buses, encouraging Philadelphians to get vaccinated. Sometimes it was not polished but the dance went on.
Bp. Davenport is lifted in her dancing praise to God by our prayers and our love. She is also lifted by her memories of her marriage to her beloved late husband Joel M. Davenport, Sr., her three children, her seven grandchildren and her Mom, Ruth Curtis. The songwriter, James McCurley, and the group "Fred Hammond and Radical for Christ"4 had Bp. Davenport in mind when they wrote, then sang:
When the Spirit of the Lord comes upon my heart,
I will dance like David danced.
Look, she dances still. Come on; let's join her in the dance!
— Dr. Addie J. Butler
References:
Brenda Lange, "Leading SEPA in Dance, To the Glory of God," [accessed from https://ministrylink.org/leading-sepa-in-dance-to-the-glory-of-God/ on October 4, 2018].
Diane Mastrell, "Philly Makes History with Installation of First Black Female Lutheran Bishop, The Philadelphia Inquirer, September 22, 2018, page B-6.
Davenport, Patricia. Interview. Conducted by Addie Butler. 14 March 2023.
7 September 2010.When the Spirit of the Lord Lyrics. Accessed 12 March 2023. Google.com/search?q=when+the+spirit+of+the+lord+fred+Hammond&rlz=1C1GCEA_enUS918US92…