2021 Gathering: Boundless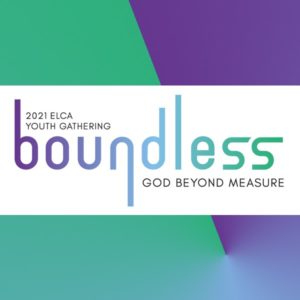 The ELCA Youth Gathering team announces the theme of the 2021 Minneapolis Gathering, "boundless: God beyond measure," based on Ephesians 3:19 CEV.
"I want you to know all about Christ's love, although it is too wonderful to be measured. Then your lives will be filled with all that God is."
What are the stories of God's people, both in Scripture and modern-day, that share the awe and wonder of just how vast our God is? What does it mean, what does it look and feel like to live a life "filled with all that God is"? How can young people find themselves within the boundlessness of Christ's love?
MYLE, the tAble and the Gathering are unique opportunities to invite young people into a deeper relationship with a God whose possibilities are boundless. Through one-of-a-kind experiences, this ministry stretches and affirms young people's gifts and calls. They experience the power of the Spirit within them, that frees them to live in the grace of God's boundless love in Jesus Christ.