Congregations, Faith in action
September 25, 2019 in
Vitality Awareness Day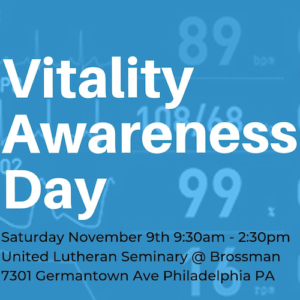 Join members of the Vitality Team on Saturday November 9th at the Philadelphia Campus of United Lutheran Seminary for a day of Vitality Awareness. During the day we will help raise awareness for ministries efforts that matter in helping to transform your congregation into a vital ministry in your community. This day is for both lay leadership and rostered leaders alike, and anyone who is interested in recovering the joy of ministry that makes a difference.
Cost is $15 per person and $30 for groups of two or more. Registration includes lunch and light breakfast. Please save the date! Registration is open! Click this link to register: https://community.ministrylink.org/vae2019
Our Keynote presentation will feature members of the Vitality Team as we present on the ways congregations can be attentive to their "vital signs." During our time together you will be given tools to discover and assess your own congregational health as we explore in-depth characteristics of thriving and vital congregations.
Each participant will also be able to attend three of our many breakout sessions as we dive deeper into discovering ways to create vital communities of faith.
Breakout sessions to be offered:
| | | |
| --- | --- | --- |
| Kris Chandler | Being Church Together: God's Work. Our Hands | how to cultivate relationships with God, each other and the World an exploration of how to create missional partners in your local context. |
| Tim Johansen | Evangelism 101 | How tried and true evangelism methods apply to the digital world. |
| Mary Ann Siefke | Thriving in Complexity | How to navigate an ever changing world with Adaptive Leadership |
| Bradley Gow | Doing a New Thing | How to brainstorm doing new things in your ministry context |
| Dwight Mason | What's Your Story? | How to cultivate a culture of story telling and testimony in your congregation. |
| Kayla Shadowy | Power of Healing and being people of hope | How to cultivate healing ministries in your congregation and to be a source of healing for the wider community. And how to maintain hope in a hopeless world. |
| Will Flippin | Conflict resolution | How the power of reconciliation and healing can free you from the past and set you on a course of vitality |