Spread the Word on Social Media Sunday Sept. 24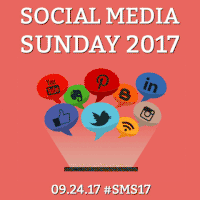 Sunday, September 24 is Social Media Sunday – a perfect opportunity to share your Lutheran witness and tell your church's story. The concept is simple: encourage your social media connected people to share about your church's activities and the Gospel message with each other and their social circles.
All posts should include the hashtags #SMS17and #SEPAforward.
Here are some ideas that you can encourage people to try:
Check in at church on their favorite social site
Post their favorite thing about your church
Tweet the sermon in real time
Plan a Reformation 500 'sound byte' for the sermon and ask people to post it
Take and share selfies
Pin and share pictures
Upload short videos of your worship or church life
Have social media active people available with laptops to help others set up social media accounts
The idea is to give people practice in telling their faith story and your church's story within their own social media circles. You can participate even if you do not have an official social media presence for your congregation.
There are lots of ideas and resources at the Social Media Sunday 2017 group on Facebook  with downloads under the "Files" tab.
Share this graphic on social media: