Sacred Hospitality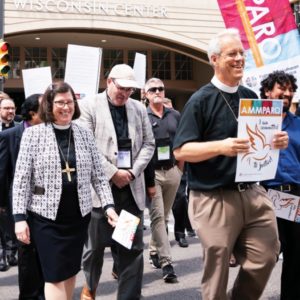 Even before the 2019 Churchwide Assembly declared the ELCA a "sanctuary" denomination, congregations have been working out just what it means to be a "sanctuary."
For First English Lutheran Church in Columbus, OH, it means opening its doors to an undocumented immigrant who had lived in Columbus over a dozen years, held jobs, and paid taxes. Though Miriam Vargas has repeatedly been given extensions to stay in the country by Immigration and Customs Enforcement (ICE), in May 2018 she was told she had 30 days to leave, and decide whether to take her two citizen daughters back to Hondouras, a very dangerous country, or give the girls up for adoption. First English decided to house Vargas and her daughters as she works to become a legal citizen.
For St. Peter Lutheran Church in New York City, sanctuary consists ofproviding individuals in fear of deportation with food, off-site housing, mental health support and other services. "You really have to define sanctuary in your context and what it means to accompany people," said Christopher Vergara of St. Peter.
Elsewhare, some congregants escort undocumented immigrants to court appointments and asylum proceedings and help them check in with ICE. Congregations host English as a Second Language classes or hold discussions on what our faith says about immigration. Others answer the call in the streets, marching to advocate for just immigration laws.
Sanctuary can be many things, but most agree it's not a solution to a broken immigration system. Usually, it's a method of buying time to fight deportation on a legal front. Church leaders stress that the designation does not in any way encourage congregations to break the law.
Learn more of how ELCA congregations are living into sanctuary https://www.livinglutheran.org/2020/05/sacred-hospitality/
Download a study guide: What does it mean to be a sanctuary denomination? https://www.livinglutheran.org/2020/05/study-guide-sacred-hospitality/