Report Describes "Halo Effect" of Sacred Places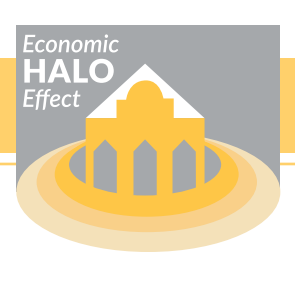 America's older churches and synagogues bring major economic value to their communities, making an significant contribution to local employment, education, children and families, the performing arts, and overall neighborhood health. A new scholarly study of the "halo effect" of older sacred places – conducted by Partners for Sacred Places in partnership with the University of Pennsylvania (Penn) – shows that the average urban church or synagogue contributes $1.7 million in value to its community each year.
Other highlights from the study:
Of the total Halo value of a sacred place, 40% comes from educational programs (including schools and day care programs), 32% from direct spending (congregational budgets and program budgets), and 28% from "catalytic" effects, such as the spending of visitors who come to the church or synagogue for events and programs.
87% of those who benefit from social service, educational or cultural programs housed in the average sacred place are not members of the host congregation, indicating that churches and synagogues are de facto community centers
Each sacred place is a magnet for visitors, attracting 780 visits each week to its neighborhood, on average. The 90 sacred places in the study generated over 3.6 million visits each year, almost 50% of whom came for community programs. Only 11% of those visits were for worship; 31% came for education programs and 9% for special events.
"This study is providing powerful new evidence for our argument that older churches and synagogues are public assets that make enormous contributions to our communities. Everybody has a stake in their stewardship and good use," said Robert Jaeger, President of Partners for Sacred Places.