Keeping Watch After Ferguson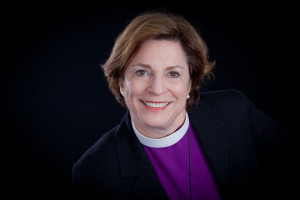 There are no easy solutions to the inequalities that fueled the rage and despair that erupted in Ferguson, Mo. last week, Bishop Claire Burkat writes in a pastoral message to the Synod. Christians are called to find a third way between our cultural impulses to fan the flames of discord or trivialize others experience. "We must listen to each other…in the context of prayer and conversation, through action and advocacy, in safety, in respectful conversation and shared hope," the bishop writes. Drawing on the experience of the prophet Habakkuk, the bishop calls the church to action: "Now is time for us, as individuals, to be the runners, to move our feet where God's justice needs to be proclaimed."
"Standing on God's Watch Post"
A Message on Ferguson by Bishop Claire Burkat
The scroll under the news feed on Monday, November 17, kept saying the announcement would be coming any minute, so I was glued for four hours to my television that evening waiting for the announcement of the Grand Jury's verdict on the killing of teenager Michael Brown by Police Officer Darren Wilson. Finally after 9 p.m. Eastern Time, the announcement was made that there would be no indictment of any kind. I watched for another three hours. I could not turn away as the people who were gathered and waiting on the streets of Ferguson, Missouri, cried, hugged, prayed, and then began protesting, spilling their despair and rage out into the night.
These words of the prophet Habakkuk kept ricocheting through my mind:
O Lord, how long shall I cry for help,
   and you will not listen?
Or cry to you 'Violence!'
   and you will not save? (1:2)
Only after the phalanx of police fired tear gas and rubber bullets into the crowd did most people disperse. No one really knows who the people were who did not leave the scene, but it seemed they were mostly media staff and those who were getting ramped up for trouble. Some of that remnant began burning and looting and left the already politically, economically and emotionally desperate and devastated town of Ferguson, Mo., in shambles.
Habakkuk again:
Why do you make me see wrongdoing
   and look at trouble?
Destruction and violence are before me;
   strife and contention arise. (1:3)
Make no mistake, the anger and outrage is not just about the shooting of this unarmed black teenager by a white police officer, who testified that he was being threatened. It is about the many, many ways and days and years that people of color, and especially Black Americans, are racially profiled, stopped and frisked, and are actually at risk of their lives on a daily basis in the public square. There are seemingly endless stories of racial injustice and the ways in which African-American boys are raised and warned are very different from the access and privileges Caucasian boys enjoy. Countless black families in America are still coaching their sons and nephews to stay alert and polite when they are out and about — 50 years after Jim Crow laws were abolished. Why? Because young African American males in recent years are "at a far greater risk of being shot dead by police than their white counterparts – 21 times greater, according to a ProPublica analysis of federally collected data on fatal police shootings." [1]
Habakkuk's voice rises in howls of shame and agony:
So the law becomes slack
   and justice never prevails.
The wicked surround the righteous—
   therefore judgment comes forth perverted. (1:4)
Yes, yes, yes, there are many underlying reasons for the up swelling of protest and reaction to racial inequality in America. In "The New Jim Crow: Mass Incarceration in the Age of Colorblindness," Michelle Alexander writes "The fate of millions of people—indeed the future of the black community itself—may depend on the willingness of those who care about racial justice to re-examine their basic assumptions about the role of the criminal justice system in our society." [2]
There are no simple answers or solutions. We still have huge issues of inequality in many arenas in this country. The education system in America today clearly discriminates against children in poor neighborhoods. High unemployment, digital illiteracy, generational poverty, gun violence, devastating health care issues and expenses, and the astonishing number of black men arrested, incarcerated, and on parole are just a few of the many ways whole communities are powder kegs for the explosion of the racial divide.
---
Now is time for us, as individuals, to be the runners, to move our feet where God's justice needs to be proclaimed. To raise our voices along with Habakkuk and those for whom he speaks. To stand in solidarity with them.
Listen to where God is calling you, with your own influence and in your own context, and then go to that place with your heart and mind and hands and feet.
---
Addressing Habakkuk's complaint for this generation will take hard work, dedication to reform, sincere listening and respectful dialogue among not just among Black and White Americans, but among all people of good faith who want to make a difference and to live into God's desire that we seek justice, love kindness, and walk humbly with our God (Micah 6:8).
So what does the Prophet Habakkuk recommend?
I will stand at my watchpost,
   and station myself on the rampart;
I will keep watch to see what he will say to me,
   and what he will answer concerning my complaint. (2:1)
Let's not push too hastily for people to "get over it," to swallow their pain and anger and "move forward." Because as theologian Water Brueggemann asks, "Could it be that genuine forgiveness is possible only when there has been a genuine articulation of hatred?" [3] By listening to the words of the wounded and sick in soul and spirit, hearing their stories, telling our stories, and holding with respect those powerful, violent emotions as best we can, we are at least acknowledging that, yes, this pain is real, it is pervasive and spreading. And, most importantly it is worthy of healing – whatever it takes.
Let's not be distracted by the kind of rhetoric that has arisen in response to these events, the kinds of callous, repugnant and offensive remarks jumping off of Facebook, Twitter, news pundits, and blog posts that seek to blame the victims, downplay the seriousness of the issues, and divert our attention from the work that needs to be done. We must find a third way between the two options offered us by our culture: fight or flight. Toss nasty verbal grenades into the fray, or turn away and shop, shop, shop for the best holiday deals.
Here's what we all must do — those enraged by Ferguson, and those who do not understand the rage against the daily indignities. We must listen to each other. We must "hear the agony and address the sinful violence of human beings" (Brueggeman) in the context of prayer and conversation, through action and advocacy, in safety, in respectful conversation and shared hope. Wouldn't it be wise to invite God into these conversations?
We, like Habakkuk, wait to see how God will respond. Will God choose fight or flight? Will God acerbically dismiss or mutely turn away?
Neither. God chooses a third way. God listens and responds:
Then the Lord answered me and said:
Write the vision;
   make it plain on tablets,
   so that a runner may read it.
For there is still a vision for the appointed time;
   it speaks of the end, and does not lie. (2:2-3)
There, you see, is Habakkuk's God, the God of our murdered sons, the God of our stressed law enforcement, the God of communities wracked by violence, the God of our fearful households, the God of our justice system fragile and stretched to breaking. This is the God who sees that things must change, and puts forth a vision, a future that we are called to write down and speak aloud and make real.
Our Presiding Bishop Elizabeth Eaton said in a pastoral letter about the Michael Brown decision: "As a nation, we are struggling with and divided by the decision. It has affected so many of us in so many different ways. We want the assurance that all of this means something. We want to know that someone cares. Has not God created all of us to have inherent dignity, value and worth?" [4]
So how are we to do this work? Where is that tablet? Who will be the runner? Who will read and share the vision?
People of God, followers of Christ, guided by the power of the Holy Spirit, we need to start writing on tablets — raising them high and making them clear so that anyone in any community can read the message. We will make the Lord's vision plain on tablets. We will bring about the vision for the appointed time!
God is already calling us to listen and learn and lend a hand and an ear at this difficult time. It is time for congregations and synods to take action to actively resist racism and injustice in any form. It is time for all people in all communities across America — Native American, Alaskan Native, Latino, Asian, Caribbean, African, European, Middle Eastern and of Pacific Islander descent – for all of us to speak a prophetic word through advocacy and action on the local, state and federal levels.
Now is time for us, as individuals, to be the runners, to move our feet where God's justice needs to be proclaimed. To raise our voices along with Habakkuk and those for whom he speaks. To stand in solidarity with them.
Listen to where God is calling you, with your own influence and in your own context, and then go to that place with your heart and mind and hands and feet.
Because, as Habakkuk reminds us, God is at work in ways that are not immediately visible to us, but are nevertheless powerfully moving among us.
We are the runners, and God is making our feet sure-footed and strong. We are the vision-writers, and our fingers are typing and tapping God's justice into the world. We are the pain-listeners, and our ears and voices are being attuned to attend to suffering so that we may respond with these words: AND YET.
And yet I will rejoice in the Lord. And yet I will exult in the God of my salvation. And yet the Lord is my strength. And yet… [5]
Sources:
Ryan Gabrielson, Ryann Grochowski Jones and Eric Sagara, "Deadly Force in Black and White," ProPublica (http://www.propublica.org/article/deadly-force-in-black-and-white), Oct. 10, 2014.
Alexander, Michelle, "The New Jim Crow: Mass Incarcernation in the Age of Colorblindness," New Press, 2011. "One in three young African American men is currently under the control of the criminal justice system—in prison, in jail, on probation, or on parole—yet mass incarceration tends to be categorized as a criminal justice issue as opposed to a racial justice or civil rights issue (or crisis)"
Brueggemann, Walter, "The Message of the Psalms: A Theological Commentary," Augsburg Publishing House, 1984.
ELCA News Service, "ELCA presiding bishop offers prayer, hope in wake of Ferguson decision," http://www.elca.org/News-and-Events/7709, Nov. 25, 2014.
Adapted from Habakkuk 3:18