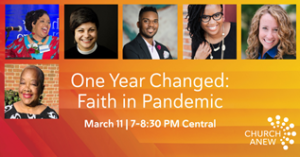 We have been leading, parenting, learning, working, neighboring, and simply existing within a global health crisis for over a year. It has changed the way we live our lives, the ways we connect meaningfully with one another, and perhaps it has also changed our faith.
 In this evening virtual retreat format, gather with other people of faith to ponder how we might be moved into a different sort of spirituality this Lent. What have we let fall that we will never pick up again? What practices have emerged that may be meaningful far into the future? If this is truly a humanity-defining moment, what have we learned about our species? About ourselves? About our spirits?
 With seven-minute talks from faith leaders, activists, artists, and more, we will memorialize the way this moment has shaped us and will continue to influence us. We will spend time in prayer and reflection, considering how the Spirit might be moving all of humanity in this moment.
Featuring:
Dr. Valerie Bridgeman
Dr. Ulysses Burley III
Dr. Jacqueline Bussie
Rev. Emmy Kegler
Rev. Angela T. Khabeb
Rev. Dr. Fulton L. Porter III
Rozella Haydée White
Learn More at:
https://churchanew.org/events/2021/3/11/one-year-changed-faith-in-pandemic
Register Now for FREE Event:
https://churchanew.org/one-year-changed-free-registration
For Group Use On-Demand Access ($149):
https://churchanew.org/one-year-changed-on-demand-group-registration