Just Love: A Virtual Preview
September 12, 2020 @ 2:00 pm - 4:00 pm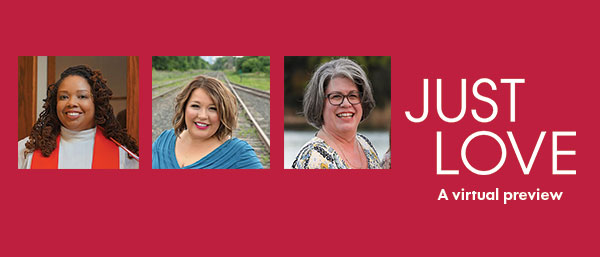 Join Women of the ELCA for Just Love: A virtual preview where you'll get a taste of what's to come at the 2021 Gathering, Aug. 5-8 (welcatg.org).
This two-hour Zoom webinar will explore the Just Love theme through Bible study, a mini-workshop, words of inspiration, music, and much more. And you can participate for free from your comfy armchair, front porch, or home office.
Connect with other women of faith for this two-hour webinar, Saturday, Sept. 12, at 1 pm Central Daylight Time (2pm Eastern). Registration is limited to the first 1,000 women, so complete your simple, online registration now.
Here's who is helping us with our virtual gathering:
The Rev. Jennifer Michael, churchwide president in the 2008-2011 triennium (emcee)
The Rev. Angela Khabeb (Bible study)
Rachel Kurtz (music)
Kelly Glow (artist-in-residence)
The Rev. Meghan Johnston Aelabouni (mini-workshop)
The Rev. Beth Birkholz (stretch break)
Eva James Yeo (quilt challenge)
Valora K Starr (in-kind giving)
You'll also hear greetings and prayers from the Rev. Elizabeth A. Eaton, presiding bishop of the ELCA; Lisa Plorin, churchwide president of Women of the ELCA; and Myrna Wells-Ulland, president of the Grand Canyon Synodical Women's Organization, the home of our 2021 triennial gathering in Phoenix, Ariz.