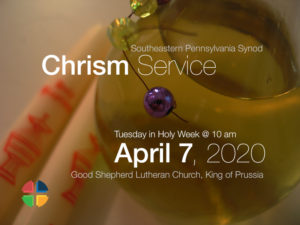 March 2020
Dear Beloved Siblings in Christ,
As part of a deep and meaningful Lenten journey, I invite you to our Southeastern Pennsylvania Synod Chrism Service.
On Tuesday of Holy Week, it is our tradition to gather for a service of Word and Sacrament, for blessing of oil, for healing prayer, and renewal of ministry vows.
The Chrism Service is a time for ministers of Word and Sacrament, ministers of Word and Service to reaffirm promises made as you began your ministry, and blessings for congregational deacons and assisting ministers to honor their local ministries. It is also a time to worship our Lord and be strengthened and renewed as we prepare to lead the faithful to the Cross and Resurrection.
We will gather at Lutheran Church of the Good Shepherd, 132 E. Valley Forge Road, King Prussia, PA 19406; 610-265-4545; on Tuesday, April 7, 2020 at 10:00 am.
Whether or not your congregation has the practice of anointing with oil, please join us in this holy time together. Oil used at baptism ("chrism"), anointing the sick, and signing those preparing for baptism, as well as other blessings will be set aside for use in our congregations through the year. If you would like to take some of the oil back to your congregation, please bring a vial or small container with you. Following the service, we will enjoy a light lunch and conversation in the fellowship hall. Your family members, friends, seminarians, and leaders of your congregations are also welcome to attend and join us as we renew our vows.
Our Lord Jesus has chosen us, blessed us, and sent us to proclaim the Gospel in Word, Sacrament and public ministry for the sake of the world. Let us be renewed together in worship, and strengthened for the journey. I look forward to this Chrism Service on Tuesday, April 7, 2020 at 10:00 a.m. at Lutheran Church of Good Shepherd.