ELCA Elects New Presiding Bishop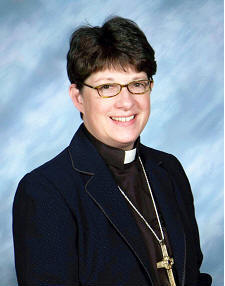 The Rev. Elizabeth Eaton, bishop of the Northeastern Ohio Synod, was elected today (Aug. 14) as the next Presiding Bishop of the Evangelical Lutheran Church in America. Eaton received 600 votes on the fifth and final ballot at the ELCA Churchwide Assembly. The Rev. Mark Hanson, incumbent Presiding Bishop, received 287 votes.
Eaton is the first woman to be elected Presiding Bishop in the 25 year history of the ELCA.
"I just wanted to have a conversation," Eaton told the assembly. She said we will continue to have conversation about the need for the ELCA to grow past our northern European heritage and reflect the Revelations vision of all tribes and nations flowing to God's throne. "We need to find ways to get out of the way to welcome the gifts of those who have come from other places, have other backgrounds or other colors of skin," Eaton said.
The Presiding Bishop-elect also called the ELCA to continue in discernment of God's direction. "We need to have a conversation with God," she said. "And maybe that means we have to be quiet."
"No one comes to faith alone," Eaton said, thanking the pioneering female pastors in the ELCA and the Rev. April Ulring Larsen, the first woman elected a synodical bishop in the ELCA 21 years ago.