2014 Assembly, Assembly, ELCA, Faith formation, Faith in action, Resources
May 13, 2014 in
'Be Communities of Discernment'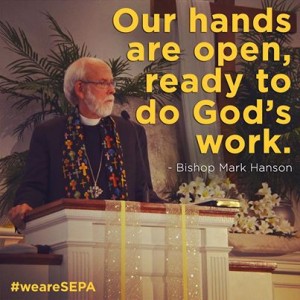 "To do God's work with our hands, we need to know what God is about," the Rev. Dr. Mark S. Hanson told the 2014 Southeastern Pennsylvania Synod Assembly in his keynote address.
"We need to be communities of discernment," the former ELCA presiding bishop said. To do that, "we need to be fluent in the language of faith – Scripture."
Throughout the Bible that is exactly how the ancient Israelites, Mary, Peter and Jesus himself understood and proclaimed their place in God's story.
"Each time God did something really new, God's people had to stop and recite the narrative of what God had done in the past," Hanson said.
In Deuteronomy 26, as the people are about to enter the promised land, they recited what some call "the first creed," he said. "If they didn't know their own narrative the fear was, I believe, that the would so accommodate themselves to the land that they would become the powerful, they would neglect the imprisoned, they would forget the orphan and alien among them."
Mary went back to the Song of Hannah as she sang what we now revere as the Magnificat, and Jesus began his own ministry quoting the prophet Isaiah's words: "The Spirit of the Lord is upon me, because he has anointed me to bring good news to the poor."
For Lutherans, discernment of what God is up to happens in community, Hanson said.
"Here is our dilemma as Lutherans – we have to be honest that we can't know exactly what God is up to, yet God expects us through faithful discernment to join in what God is doing," he said.
But discernment is not just historical. "To be a community of discernment is not only to know the narrative of Scripture but to put ourselves in a particular social location and see the world from the perspective of those below," he said.
In his engaging keynote presentation, Hanson led the Assembly in small group discussions about questions including: What passage of Scripture is informing your life and your work as God's hands? Where do you see God showing up, and what is God calling you to do? How have your hands been doing God's work in the last 48 hours?
Hanson's presentation is available on video, designed to be paused for group discussion, below. Download a copy here.
God's work. Our hands. from on Vimeo.
Once we discern what God's work is in our time and place, we can put our hands to work as "ambassadors for Christ." Hanson said he believes Lutherans need to practice telling God's story, and cited a recent example.
The day after Easter, he was at a Toyota dealer, waiting for an oil change and reading the Bible. Another man in the waiting room spoke out, "Praise the Lord – [a man] reading the Bible at Toyota – and a man reading about Jesus." A conversation started. The man who spoke out was a member of an Assemblies of God church who came to Jesus, and observed his church had been full on Easter. "Next Sunday, we'll see how many will stay," the man noted. The other man waiting was reading Zealot [The Life and Times of Jesus of Nazareth], which Hanson noted is a book by a Muslim, seeing Jesus through the eyes of others. While Hanson saw that the conversation had the potential to lead to deep theological disagreement – imagine finding a conversation about God in the waiting room of a car place.
To do God's work, our hands must first be open to receive God's love. "Open hands hold us at the font as we are washed in the gracious waters of baptism – steadfastly, mercifully, eternally washed in the sign of the cross and the sign of the Holy Spirit. Open hands receive the bread and wine, and share the peace. We open our hands in prayer, not praying what God needs to know, but with open hands in a posture open to the Spirit," Hanson said.
This is true even for prayers of lament, when awareness of suffering in the world calls us to plead publicly for God's mercy. "Through this, the power of God's love will reign," he said. Hanson called forward members of Philadelphia Korean Lutheran Church and prayed over them, lamenting the pain of Korean families who lost loved one's in last month's tragic ferry boat accident.
Our hands must also be extended against the forces of evil, Hanson said. Using words from the baptismal liturgy, he had the assembly stand and face west, extend their hands, and repeat the words of renunciation. We need to join hands with others to be a force against evil, he said.
Hanson believes the greatest force holding us back is the force of fear. Throughout scripture, angels appear as messengers from God, reminding, "Do not be afraid." We need to not be afraid, and to create space for God to work, to remind others not to be afraid.
To reach out to others, Hanson said Lutherans' hands need to be busy with works of radical hospitality. He asked the assembly to consider how visitors with a different experience of family might respond when we call our congregation a family. And he echoed a call from Dr. David Lose "to make worship less performance in the recital hall, and more practice in the rehearsal hall." We need to practice talking not just to those in the pews, but to people who are not in church, he said.
Hanson suggested that the hardest position for our hands might be that of letting go. Noting his own difficulty letting go of a beloved call as presiding bishop, he acknowledged the sadness most of us feel when letting go.
In the Jewish tradition, Sabbath prayers for the dead continue for a year, he said. Yet in our culture, we are expected to publicly get over a death after three weeks, and personally in three months.
As Easter people, we do not need to be afraid, and are free to grieve the loss of loving relationships, Hanson said. We are free to reconcile, restore, and give life, justice and peace to all that God has made. – John Kahler and Bob Fisher