Tuscarora Youth Retreat Moves to One Day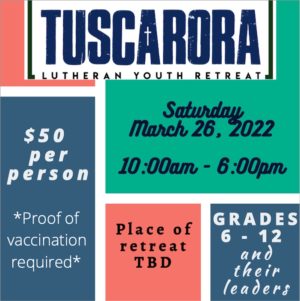 The Tuscarora Youth Retreat Committee has made the decision to change this year's retreat to a ONE DAY EVENT due to the latest COVID-19 numbers and data.
[Note: This is not a synod sponsored event and not subject to the synod's events policy.]
All 6th – 12th grade youth and their leaders are welcome to attend this ONE Day Event on Saturday, March 26th from 10:00am – 6:00pm. The place we will hold the retreat is TBD, but it will be within our synod boundaries so everyone can easily make the trip.
Please read below, check out our website, and download this flier for information and FAQs.
1. When will this retreat be held? Saturday, March 26th 10:00am – 6:00pm.
2. Where will this retreat take place? TBD, but will be local
3. What age group is this retreat for? 6th – 12th grade (and their leaders!)
4. What is the cost? $50 per person (including leaders)
5. Will meals be provided? Yes! Lunch and Dinner will be provided
6. How will I get my youth to the retreat? All groups must provide their own transportation to and from the retreat.
7. Do I have to wear a mask and be vaccinated?Yes, all retreat participants are required to be vaccinated and will be asked to wear a mask when participating indoors.
8. Where do I register my group? https://tuscaroralutheranretreat.weebly.com/
9. When does registration end? February 20th @ 11:59p.m.
10. Will we still sing Pharoah, Pharaoh? YES! We plan to make this ONE DAY EVENT just like our typical retreat.
Registration is now open! We hope you will join us for a day of fun and fellowship!