From Lutheran Children and Family Service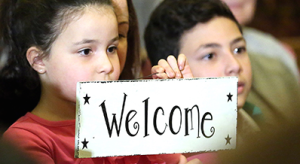 Lutheran Children and Family Service (LCFS) is the largest refugee resettlement organization in Pennsylvania, resettling more than 500 refugees through offices in Philadelphia, Allentown and Lancaster. Our Allentown office operated in partnership with Lutheran Congregational Services is a "Tier One" location for resettling Syrian refugees. Over the past weeks because of tragic world events, we have had the opportunity to tell more, answer questions and respond to an amazing outpouring of support. We invite you to walk with us in this incredible ministry of hospitality and welcome.
Learn more:
Visit our resource center to learn more about the US process for vetting and admitting refugees and how it differs from other areas of the world. Also, learn about the many ways you can support this work. http://www.lcfsinpa.org/resourcecenter
Advocate:
Governor Tom Wolfe publicly announced that PA would welcome Syrian refugees. However, there is a bill developing in Harrisburg to advocate for the suspension of Syrian refugee resettlement. Lutheran Advocacy Ministries of Pennsylvania is following this development. Find out more: http://www.lutheranadvocacypa.org/syrian-refugee-resettlement-in-pa/
Eradicate Myths about the Muslim Faith:
Lutheran Social Services of Minnesota prepared a 7 week study with contributions from their refugee resettlement staff and Luther Seminary professors. Find it here: http://wwws.lssmn.org/refugeeservices/study/
Give:
Visit our resource center to learn more about how to donate and volunteer as an individual or congregational group.
Invite:
Our staff are available to come to your congregation to tell you more about this ministry. Contact Pr. Jennifer Ollikainen at jollikainen@libertylutheran.org to get started.
Related:
Bishop Burkat's message on refugees in PA
Bishop Eaton supports resettlement