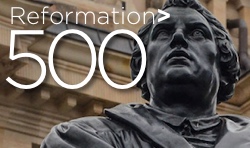 ARTICLES
Featured resources:
Special thanks to The Lutheran  magazine for giving us permission to include links to articles that relate to Luther and the Reformation.  You may click on the link in the annotations below.  You may learn more about subscribing to The Lutheran with this link:  http://www.thelutheran.org/global/form.cfm
Lutheran mythbusting or … 10 things you thought you knew about Martin Luther 
This was the cover story from the January 2015 issue written by noted Church theologian and historian Timothy Wengert.  Professor Wengert's informative article does more than just 'bust myths' about Luther, it is a great entre for further discussion with a confirmation class or an adult discussion group.  The reader is invited to go deeper into Reformation history and learn about the 'real' Luther and his 'real' impact on Church and Society.  The link is:  http://www.thelutheran.org/article/article.cfm?article_id=12394&key=153611234
Lutheranism 101
This 'Introductory Course' written by Professor Kathryn Kleinhans of Wartburg College, covers the basics of Lutheran theology.  For long-time Lutherans, for Lutheran 'newbies', for confirmation classes, for new member classes, Professor Kleinhans provides a straightforward approach to understanding the key teachings that the reformers brought to the church catholic in the 16th century and invites us to see how these important ideas still shape our 21st century Church scene.  The link is:  http://www.thelutheran.org/article/article.cfm?article_id=5895&key=34751023
Lutheranism 202
Professor Kleinhans has followed up her first article with this second installment that focuses on a central Lutheran document, The Augsburg Confession.  Outside the Scriptures and ancient Creeds, the Augsburg Confession is the fundamental Lutheran document that outlines the emphasis of the 16th century reformers that we are saved by grace through faith.  Professor Kleinhans's article makes this important document accessible and invites further study.  http://www.thelutheran.org/article/article.cfm?article_id=7432&key=55234622
Books
From Conflict to Communion Lutheran-Catholic Common Commemoration of the Reformation in 2017
Lutheran –Catholic Commission on Unity, book, Evangelische Verlagsanstalt and Bonifatius, 2013
This is a wonderful contribution to thinking ecumenically about the commemorations that can and will take place in 2017 (and the years leading up to 2017).  This work concludes by enunciating 5 ecumenical imperatives as Lutherans and Catholics commemorate 2017.  The book begins with an appraisal of the current ecumenical age.  The book includes an open, honest and charitable look at the history of 16th century events that led to the split of the church in a way that allows Lutherans and Catholics to tell the story together.  The book is a valuable tool for moving us out of our history and histories and moving us beyond church-dividing differences "to witness to the mercy of God in our proclamation and service to the world."
Here I Stand

Roland Bainton, book, Hendrickson Publishers Marketing, LTD, 2009 (orig. pub. 1950)
This continues to be one of the most readable and comprehensive biographies of Martin Luther.  Rather than getting bogged down in Luther's theology and too much minutia of Luther's life, Bainton takes an approachable style to cover Luther from his early years and influence of his family through his personal struggle with faith and the resulting journey through cloisters, university teaching and the profound results that impacted so many dimensions of the church and society in his day as well as ours.  It has stood the test of time for over 50 years and is a book I have recommended to many parishioners who want a good overview of Luther's life, theology and influence.
Luther and His World
Graham Tomlin, book, Lion Books, 2012, (orig. pub. 2002)
This short 190-page paperback, is an excellent introduction that ably locates Luther in both his historical and theological/philosophical place.  It is richly illustrated with pictures, prints and quotes.  There are many helpful text inserts that provide additional information on important doctrines and people.  The nine chapter book could be used in adult education settings or recommended to parishioners for individual reading. — Steve Godsall-Myers
Still available through Amazon (new paperback $8.96; Kindle, $7.96)
The Mother of the Reformation: The Amazing Life and Story of Katharine Luther
Ernest Kroker (translated by Mark DeGarmaeux), book, Concordia, 2013
Kroker paints an intimate picture of Katie and of family life in the Black Cloister during the formative years of the Reformation, showing how Katie s marriage to Martin Luther was a multifaceted vocation, with such tasks as household brew mistress, cloister landlady, property overseer, gardener, cow- and pig-herder, and fishwife. Indeed, Katie oversaw their home much like a lord in her kingdom, yet in the midst of it all stood the man to whom her work, concern, and duty were directed. For those interested in one of the leading women of Luther's day.
Videos/DVD's
Opening the Door to Luther,  narr. Rick Steves, vision video, 2001
Interested in learning about Luther's homeland and his pilgrimage from monk to reformer? Then click on this YouTube video and you will be treated to a short yet informative program by noted public television travel host Rick Steves. In his 27 minute video that the ELCA has posted to YouTube you will see and hear about the key moments in the Reformation. The photography is fantastic, and the narrative accurate. This a solid and free resource for confirmation and adult education classes that are looking to learn more about the reformer and his agendas. The message is personal because Rick Steves is a Lutheran and a member of Trinity Lutheran Church in Lynnwood, Washington. He understands Luther and is able to articulate Luther's struggles clearly. His presentation of Luther's life is chronological and moves from Eisleben, to Erfurt, to Rome, and then to Wittenberg. Key moments at Marburg, Worms, and Augsburg are also included and explained with quotes from the players who changed the course of religious history. In the end you will have a better grasp of Luther and the movement that we call the Reformation. At the same time you will be able to see and hear Rick Steves play A Mighty Fortress on the organ. Enjoy.
YouTube – Click on this link to YouTube: http://www.youtube.com/watch?v=3GkyptKvtKQ
Reformation Roots DVD with Study Guide – Select Learning Resources (http://www.selectlearning.org/)
This 12-session adult study helps explain how the church came to be so diverse and divided by exploring the history of the Protestant Reformation. Modern day scholars share interesting insights and stories that help understand the context of the original discussions/debates and how the trajectories of those issues led to having so many different denominations today.  Worthwhile time is spent in the videos learning about the state of the church and the larger issues facing Europe during the time of Martin Luther's ministry.  The Study guide is simple, but helpful.  We added some Bible verses to each week's discussion in addition to the questions provided.
Luther  dir. Eric Till, film, MGM (2003),   
This is one of the most recent Luther films, produced with funds from Thrivent and was first shown in major movie houses.  It is likely that many congregations have the DVD in their church library.  It is difficult to recommend this well-produced film with its stunning visuals (none actually filmed in Wittenberg) because of its many historical inaccuracies that go beyond poetic license or historical fictionalization.  It is a good movie — the main characters and main events are here, but not always presented with precision or even a concern for chronological or casual accuracy.  Too much 'unteaching' required for this to be a good teaching tool.
Through Amazon:  http://www.amazon.com/Luther-Joseph-Fiennes/dp/B0002C9D9U/ref=sr_1_5?s=movies-tv&ie=UTF8&qid=1377801936&sr=1-5&keywords=Luther
"The Morning Star of Wittenberg: The Life of Katie Luther," DVD, ELCA production, (2001).
This is a 27-minute documentary on the unique life and role of Martin Luther's wife, the ex-nun Katharina von Bora.  Location shots from significant sites in Germany, photos of art works, and re-enactments of real-life scenes from the Luthers' life alternate with narration based on the documented history of the life of Martin Luther and his family. We have a glimpse of the amazing personality and strong role of Katharina Luther, very unusual for a woman of her time. The narration mentions names of events and historic figures associated with the Reformation, but the story of the Luther family is also made understandable for those less familiar with the history. Short enough to show during a coffee hour or group meeting, this DVD may help to stir up curiosity about the events of the Reformation and the life led by Martin and Katharina Luther.
distributed by Vision Video, PO Box 540, Worcester, PA 19490, www.visionvideo.com
Websites
95 Theses website: 
As the humanist Philipp Melanchthon would urge – "go back to the sources".  If you will be studying various aspects of the Reformation as you move to 2017, it is good to read the "original document" – Luther's 95 Theses that started the process.  An English version can be found at:  http://www.biblestudytools.com/history/creeds-confessions/luther-95-theses.html.   A German version:  http://www.ekd.de/glauben/95_thesen.html.  Most scholars will tell you that it was Luther's sermon (or tract) on indulgences and grace, written in German, that did so much more to get his message to the people.  A project to publish translations of some of Luther's important works that will include this tract is underway.
ELCA Reformation website
The ELCA has created a website (www.elca500.org/) and has a Facebook page (https://www.facebook.com/groups/627822430673672/) as well to connect Synods and congregations as we move toward 2017.
The purpose of the website is:
Highlight featured events and activities in worship, learning and service for all ELCA members (see Events);
Feature resources and support for congregations and other groups, drawing creativity from many sources, offered in a variety of online platforms (see Resources);
Invite participation in a small number of initiatives (e.g., theological conferences) that will continue to benefit the ELCA's mission and ministry beyond 2017;
Collaborate with and lift up ecumenical and global partners, such as the Lutheran World Federation (see Partners and Networks).
Lutheran World Federation websites: 
The LWF has already begun its deliberations as to how it will commemorate the 500th Anniversary.  The LWF has three aims:  to strengthen the communion among member churches, to explore the meaning of Lutheran identity and to strengthen its ecumenical commitment.   The LWF began the commemoration with a unique 'monument' – the establishment of the Luther Garden in Wittenberg.  It would include 500 trees by 2017.  You can learn more about this at this LWF site:  http://www.luthergarten.de/welcome.html
The LWF with the Pontifical Council Promoting Christian Unity released a major study document, From Conflict to Communion:  Lutheran Catholic Commemoration of the Reformation in 2017.  The documents reflects on the history of Reformation commemoration and has recommendations for the upcoming 2017 Commemoration.  It can be downloaded at this web site:  http://www.lutheranworld.org/sites/default/files/From%20Conflict%20to%20Communion_0.pdf
The LWF has created a network – The Young Reformers Network.  It has a website (http://youngreformers.lutheranworld.org/) with this purpose:  The Global Young Reformers Network is a program created by youth and for youth. We are active, creative young people who identify with their churches and therefore want to (re)form them. As we journey towards the 500th anniversary of the start of the Lutheran Reformation, we want to empower young people to engage in all aspects of church and communion life.
EKD (Evangelical Church of Germany) websites:
The EKD began the lead up to 2017 in 2008 by establishing a Luther Decade.  For each of the 10 years, the EKD would focus on a theme and encourage those in the church to examine the theme in the coming year.  In 2015, the theme is Image and the Bible. On the occasion of the 500th anniversary of the birth of Cranach the Younger, the focus turns to the art of the Reformation period. The Reformation was also a media revolution. A new language of words and images was created. What "images" does faith assume today, and how is its message communicated through media, pictures and language? More information about the Luther Decade can be found at this site:  http://www.luther2017.de/en (note: this is the English website, the German version has even more information)
The EKD does have some English articles and descriptions on its website.  The Reformation anniversary materials can be found at this website:  http://www.ekd.de/english/luther2017.html
Wittenberg websites:
Luther lived and taught and preached in Wittenberg.  The 95 Theses were posted here.  There are some links to give one a glimpse of Wittenberg and the historical sites:  https://www.youtube.com/watch?v=-mtejvU6FH0.  A general website of Wittenberg is http://www.lutherstadt-wittenberg.de/home.html?&L=1
A quick way to learn about any German city is to type – www.city name.de  Then you can push a button for 'Tourismus' or English.
Luther Memorials Foundation website:
This is the organization that has the stewardship of the Luther and Melanchthon Houses in Wittenberg and Luther's Birth and Death Houses in Eisleben.  If you friend them on Facebook you will get interesting updates and information.  Much is in German, but they do translate into English.  https://www.facebook.com/luthergedenkstaetten?hc_location=stream.  They have been 'collecting' Luther Roses from around the world via pictures.  They also have a new site with materials for youth – these pages have not yet been translated into English.  http://www.martinluther.de/kids/. The basic English website for the Foundation is:  http://www.martinluther.de/index.php?option=com_content&view=article&id=524&Itemid=442&lang=en. There is a portion of the website designed especially for children and youth.  It introduces them to the people, places and themes of the Reformation using a unique character: Ratze,'Wittenberg's most famous rat'. http://www.martinluther.de/kids/index.php?lang=en
Melanchthon website: 
This site has some information with pictures about Lutehr's colleague, Philipp Melanchthon:  http://www.melanchthon.de/en/
Katarina von Bora website:
This is not the most sophisticated website and most of the information is in German, but it does have some information about Luther's wife and Reformation partner, Herr Katie:  http://www.lutherin.de/engl.html
Women and the Reformation website:
Although this website is in German , it can give even an English speaking researcher a good starting point to identify women who played a role in the unfolding Reformation.  http://frauen-und-reformation.de/?s=karte
Institute for Ecumenical Research in Strasbourg website:
In the summer of 2102, the Institute had a seminar with the title: What to Do about 2017? The Challenge of an Ecumenical Anniversary.  A series of papers were presented reflecting points of view from a variety of Christian faith communities.  Some of the papers are available on the site – some are in German, but many are in English.  http://www.strasbourginstitute.org/en/2012-summer-seminar/?nggpage=2.