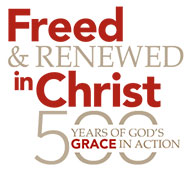 It's time to begin planning how you will bring life to this observance in ways suitable to your context. 
Identify a group of leaders to carry this task forward. What areas of congregational life will be included?
Who will make up this group? Consider including people of a variety of ages and especially young people, who will carry the gifts of the Reformation into the next five hundred years. Think not only of "cradle Lutherans" but also those who are new to the Lutheran church.
Once your group is assembled, identify the goals and hoped-for outcomes for this anniversary in your setting. Be realistic and mindful of how it will best enhance your ongoing mission and ministry.
Identify the time frame for your observance. Will it be the church year beginning with Advent 2016? One year from Reformation 2016 to Reformation 2017? Only the fall of 2017?
Discuss possible events and activities using questions and ideas such as the following.
Will Reformation emphases be woven into regular Sunday worship throughout the time frame of your observance? Or will you plan mainly for a given month or day?
How will music enliven your observance? Will you learn hymns and songs, whether new or from the heritage? What might challenge and delight your choirs or other ensembles?
Will you join voices with other Christians in an event designed for ecumenical participation?
Begin to collect information about learning resources to explore for use with adults and youth.
Consider approaches designed for conversation with people from other Christian traditions.
How are young people preparing for affirmation of baptism encountering the Reformation? How might people of all ages engage with Luther's catechisms during this time?
How will your children learn the story of God's love also through the Reformation story?
How will your congregation observe the ELCA's "God's work. Our hands." Sunday in 2016 and 2017?
What activities can extend the work Lutherans do to serve our neighbors, to care for creation, and to seek justice and peace throughout the earth?
How can you prepare to communicate effectively to people in your community during a year when there will be media interest in the question, "Who are the Lutherans?"
Hospitality, including festive food and fellowship, often accompanies events and activities such as those described above. Planning a gracious welcome for visitors and ecumenical guests may take on special importance.
Hospitality plans can certainly include an aspect of fun associated with local or cultural traditions. Consider also how to lift up the Lutheran emphasis of the wide welcome of God's grace and mercy that transcends narrow cultural characteristics in order to embrace the whole world and its peoples.
Adapted from the AugsburgFortress Reformation 500 Sampler