June 19, 2018
Pray for Our 500 ELCA Youth Gathering Participants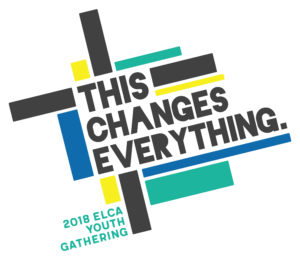 500 participants from churches in the Southeastern Pennsylvania Synod are heading to Houston June 27 to July 1 for the 2018 ELCA Youth Gathering. Some will be participating in pre-event gatherings including MYLE, the Multicultural Youth Leadership Event of the ELCA and the tAble event for youth with disabilities.
Please hold these youth and their adult leaders in prayer as they travel to (and from) and experience the Gathering.
Leader:  Gracious God, we thank you for calling young people and adult leaders from across our Synod to the ELCA Youth Gathering.  As you have shown your love by sending your Son to live among us, we pray that your Spirit help those we send also be an expression of your presence in the world. We thank the Holy Spirit for calling them to travel, worship, serve, learn, and play alongside 30,000 other participants and those they will meet along the way. Let them be your hands to feed the hungry, shelter the homeless, clothe the naked, comfort the weary and outcast, welcome the stranger, care for creation, and be loving neighbors to all people. We know and we thank you that…
All:  Jesus changes everything.