Music Festival Aids Quakertown Food Pantries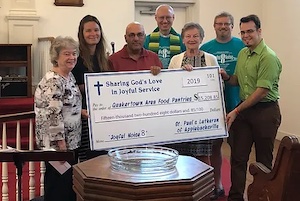 On Saturday, June 17, 2023, St. Paul's Lutheran Church of Applebachsville will host the 9th Joyful Noise Music Festival to raise funds for four Quakertown-area food pantries at The Park at 4th Univest Performance Center in Quakertown. Music runs 11 a.m. – 7 p.m., rain or shine. Free admission. Attendees are encouraged to bring their own chairs and a can of food for donation. 
The festival features diverse, spirit-lifting music. All proceeds will be donated to four Quakertown-area food pantries, which fed more than 6000 families last year. Festival attendees are encouraged to bring a food donation. Joyful Noise 8 donated $15,000 to the pantries and through the years, the event has raised nearly $80,000.