MinistryLink News for September 20, 2022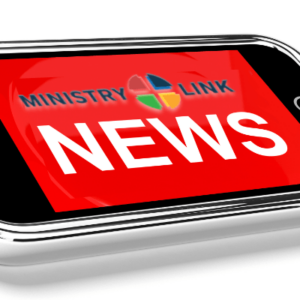 Pray, Give in Response to Hurricane Fiona
Hurricane Fiona made landfall in Puerto Rico on Sep. 18 – five years after Hurricane Maria devastated the island. A Category 1 storm, Fiona caused an island-wide blackout and brought catastrophic flooding, with some areas receiving more than 20 inches of rain. After hitting Puerto Rico and the U.S. Virgin Islands, Hurricane Fiona made landfall in the Dominican Republic, bringing severe flooding and 90 mph winds. The storm continues to strengthen and move northwest.
Lutheran Disaster Response is working with the Caribbean Synod to support impacted communities, some of which are still recovering from Hurricane Maria. Anticipated immediate needs include clean water, food supplies and other necessities.
In addition to your prayers, gifts to "Hurricane Response" will be used in full (100%) to assist those affected by hurricanes until the response is complete. Or make a general donation to Lutheran Disaster Response so we can respond to disasters whenever and wherever they strike.
---
Last Call for Forward Together In Faith Grant Applications
Deadline is September 30.
Our Synod is offering grants to congregations and leaders in 2022-23 for new initiatives and ministries that support the emphases of the Forward Together in Faith Campaign. In all, more than $217,000 in grants have been awarded to congregations over the last three years.
Get all the details and download the application at https://ministrylink.org/congregational-vitality/forward-together-in-faith-grants/.
---
Celebrate Rostered Ministers in October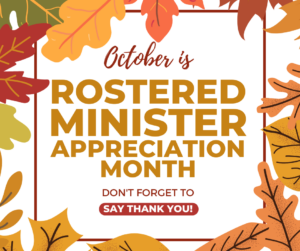 Did you know that October is Rostered Ministers' Appreciation Month? Take time out during October to thank your pastors and deacons for all the ministry they do. Stay tuned for some ideas of ways to show your appreciation. Here's one idea:
Pray for Your Rostered Ministers
Pastors and deacons love their calling, but ministry can be difficult and stressful. Your rostered ministers pray for you, so return the honor. Pray for their faith, their health, their family, and thank God for their service to you. If lay people participate in the prayers at worship, include your rostered leaders along with praying for our bishops and the church.
---
Blessing of the Backpacks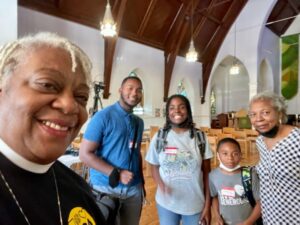 Bishop Davenport and SEPA Youth invited youth to have their backpacks and devices blessed on Sunday, September 18.
Young people could participate in activities, enjoy soft pretzels and water ice, and get a blessing from the Bishop at the font in the seminary chapel. Thanks to the many volunteers who helped out with this event!
---
Equipping: 'Saying Thanks' to Your Donors
Saying "thank you" often and in a variety of ways is an important part of helping the people who give to your ministry grow in generosity. How are you saying thanks? The Synod generosity team offered a workshop on 'Saying Thanks' on Aug. 30. If you missed it, or if you would like to review, you can watch the video on our YouTube channel.
---
A Christmas Gift: Prerecorded Worship Service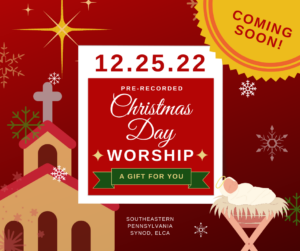 In appreciation for the ministry of our pastors, deacons, musicians, tech teams and all the volunteers who make Christmas worship happen, we're offering a pre-recorded worship service that you can offer to your people in addition to or in lieu of in-person Christmas Day worship.
You can help: If your choir/band/soloists have recorded music appropriate for Christmas morning, or if they would be willing to make a recording, email comms@sepa.org with your interest. Thanks!
Stay tuned for more details. The video link will be available in mid-December.
---
Lutheran Archives to Digitize Parish Records
The Lutheran Archives Center in Philadelphia is partnering with Ancestry.com to digitize the parish records under their care up to 1970. The Center invites active congregations in Region 7 to have their parish records digitized under this process. There is a flat fee of $250 to participate. If you have questions or would like to participate, please contact the center at info@lacphila.org or call 215.248.6383 by October 14.
Learn more: Letter from Lutheran Archives to congregations re Ancestry.com project
---
World Food Day Celebration with Rick Steves

Join ELCA World Hunger for a celebration of World Food Day, hosted by Rick Steves and special guest Mark Jansen, CEO of Blue Diamond Almonds. This special event will be streamed online so you can celebrate with ELCA World Hunger wherever you are! The recording will be available on Facebook and YouTube after the event is over
When: Sunday, Oct. 16, 4 p.m. Central time
---
Installations
The Rev. Meagan Esterby will be installed as pastor of University Lutheran Church (3637 Chestnut St Philadelphia, PA 19104) on Sunday, September 25 at 7 p.m. All are welcome.
The Rev. Kayla Sadowy will be installed as pastor of Grace Lutheran Church, Broomall, on October 16 at 2 p.m. The church is located at 2191 West Chester Pike, Broomall, PA 19008. gracebroomall.org. For information call the church at 610.356.1824.
---
Upcoming Events
In God's Image: Shaping Your Ministry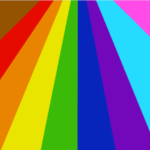 Southeastern Pennsylvania Synod's Annual Event, In God's Image: Shaping Your Ministry to be Inclusive and Safe for LGBTQIA+ Folk, will be held on Saturday, October 8, 9 a.m. – 2 p.m., at St. Luke Lutheran Church, Devon.
Jamie Bruesehoff
will be the keynote speaker. Workshops will be held on worship, mental health, churchwide assembly actions, healthcare, the RIC process, and more!
---
Rostered Ministers Equipping Event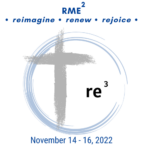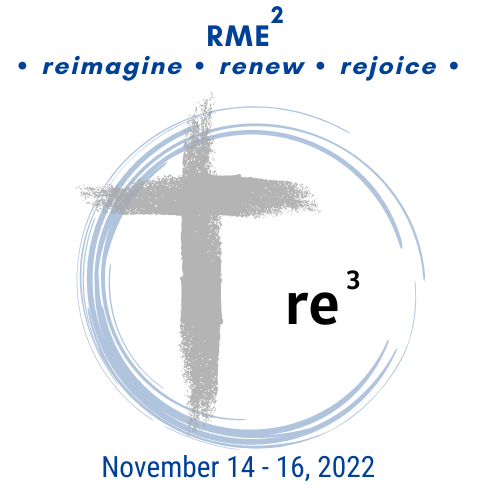 Save the date! The Rostered Minister Equipping Event (RME2), formerly known as the Bishop's Convocation, will be at United Lutheran Seminary November 14-16. The event will be hybrid, with opportunities to engage online or in person. As we finalize workshop leaders, we will update you with their names and areas of expertise.
---
Bear Creek Retreat Nov. 12 for Students in Grades 6-9
SAVE THE DATE! Bear Creek Retreat for students in grades 6-9 and their youth leaders will be held Saturday, November 12, with the option to stay overnight at camp until November 13. Mark these dates on your calendar, and details will be available soon. We are also in need of some mentor leaders in grades 10-12 to join us! For more information contact Pastor Rea at
srea@sepa.org
.
---
Free Congregational Vitality Training
Is your congregation ready to take the next step (even a small step!!) to revitalize or renew? Our Synod is participating in a series of Vitality Trainings here this fall with folks from across the ELCA. This training is great for pastor and a team of folks to take together to bring clarity about your own congregation's mission, how to live in the community and build vital and key relationships.
The four session are being offered October 6th and 20th and November 3rd and 17th, but even if you can't make those dates work, sign up to at least get the emailed recordings! Each session is offered twice daily (so you choose the one that works best) 1:30pm – 3pm (eastern) & 7:30pm – 9pm (eastern).
To register –
visit this link
. (Our SEPA Synod is 7F when you get to the list of synods)
---
Fall ULS Kindling Faith Events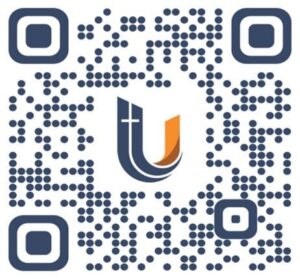 This fall holds many opportunities for lay and rostered leaders to grow and learn at United Lutheran Seminary. Most of our events have an online option, so even if you're further afield, you can still engage.
Get the full list by scanning the QR code above or by visiting the Kindling Faith website.
---
Film Screening: Addiction and Recovery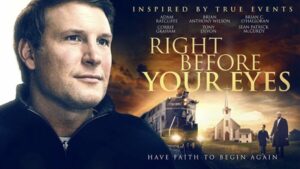 Trinity Lutheran Church, Lansdale, is sponsoring a screening of "Right Before Your Eyes," a faith-based film about addiction and recovery, on Saturday, October 1, at 7:15 p.m. in the sanctuary. A Q&A with the film's director will follow the screening. Doors open at 6:45 p.m. A free-will offering will be accepted.
Download: Movie Screening Ad – 10-1-22
---
Harvest Fundraiser to Benefit Sanctuary Village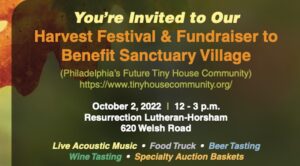 You're invited to a Harvest Festival and Fundraiser to benefit Sanctuary Village, Philadelphia's future tiny house community, on Saturday, October 2, 2022 from noon to 3 p.m. at Resurrection Lutheran Church, 620 Welsh Road, Horsham, PA 19044. Enjoy live acoustic music, food truck, beer and wine tasting, and a silent auction.
Tickets are $25 and 100% of proceeds go to Sanctuary Village.
Download: Fall Festival 2022-Flyer
---
Sharing Your Faith Authentically on Facebook
Liking, commenting, and sharing on Facebook is a means of evangelism and outreach. In this training session learn why you may want to share your faith online and how to do it authentically! This training is for lay people of all ages (and rostered ministers) to empower you to share your faith with your Facebook feed.
Hark! The Herald Facebookers Sing! Is offered by the Southeastern Synod, ELCA, on Tuesday, Oct. 11, 7 to 8:30 p.m.