Our mission is mobilizing women to act boldly on their faith in Jesus Christ.
As a community of women created in the image of God, called to discipleship in Jesus Christ, and empowered by the Holy Spirit, we commit ourselves to grow in faith, affirm our gifts, support one another in our callings, engage in ministry and action, and promote healing and wholeness in the church, the society, and the world.
---
Easter Greetings
from the SEPA Synodical Board of the Women of the ELCA,
We have a really special event coming in June – it's our Bi-Annual Synodical Gathering, and this year we're meeting at Christ Ascension Lutheran Church in Germantown to celebrate "Luther's Ladies – 500 Years of Women in the Church".  In addition to a tour of the seminary – right up the street from the church, and a presentation on the upcoming Lutheran Social Statement on Women & Justice, we're very excited to announce that our keynote speaker is Pastor Violet Little of The Welcome Church of Philadelphia!  Pastor Violet Little is an amazing woman with an equally amazing story to tell, and she deserves to tell it to a room full of people.  Please attend!  The event registration form can be found as a link under Resources below, but we can also email or hard mail you a copy.  Just contact one of the board members listed on the website.
Make copies of the registration form and hand them to women at church, insert them in your weekly bulletins and your newsletters.  Take them to your conference events, synod events, and congregational events.  Take them to work and tell your friends about the Welcome Church and the work being done in Philadelphia for the homeless community.  When you've got their interest, then tell them about Women of the ELCA and the positive impact we make locally, synodically, nationally and globally.  Tell them about how we raise up Healthy Women and Girls, the money we give out in scholarships, and the quilts and kits we put together for Lutheran World Relief.  Tell them about Phebe Hospital in Liberia – about how a small group of Midwest women literally electrified the last Triennial convention with the possibility of providing solar power to a 3rd-world hospital, and that we achieved our goal!!
Winter is over, Spring has sprung.  Time for new beginnings.  Women of the ELCA is a dynamic and relevant organization, and we should be thinking of ways to inspire more women to participate.  I pray you all feel invigorated about the work we do.  If not, get back to that place when Women of the ELCA was exciting for you, when you believed you could make a difference.  Visit the WELCA.org website to see what's new. Look around your church for women who might like to start a Café group, a book or knitting group, a bible study, or some other type of meeting that's different from your current circle offering.  Consider providing childcare or a meal so working women and moms can participate more easily.  It just takes 1 small win to make us remember that this is all worth the time and effort.
We look forward to seeing many of you on June 3 at Christ Ascension Lutheran.  As Luther's Ladies, we've changed the world.  Let's celebrate!
Blessings and prayers for a fresh start –
Joy Grace
Women of the ELCA
Board President, SEPA Synod
---
2018 WELCA Region 7 Gathering
Please Hold These Dates
Region 7 gathering – this is a retreat held every three years in the year following the Triennial. It is within driving distance and offers a wonderful opportunity to grow spiritually and connect with other women in our region. The theme this year is We Are an Offering; and the focus is on our creative gifts. There will be worship, Bible studies, speakers – but there will NOT be any business.
 Date: is April 27 to April 29, 2018
 Place: Holy Family Retreat Center in West Hartford Conneticut
Theme: We Are an Offering
2018 Annual Biennial Convention of the Women of the ELCA Southeastern Pa. Synod
Date: June 2, 2018
Place: Messiah Lutheran Church, Downingtown
Scripture & theme are the story of Mary & Martha
Convention 2016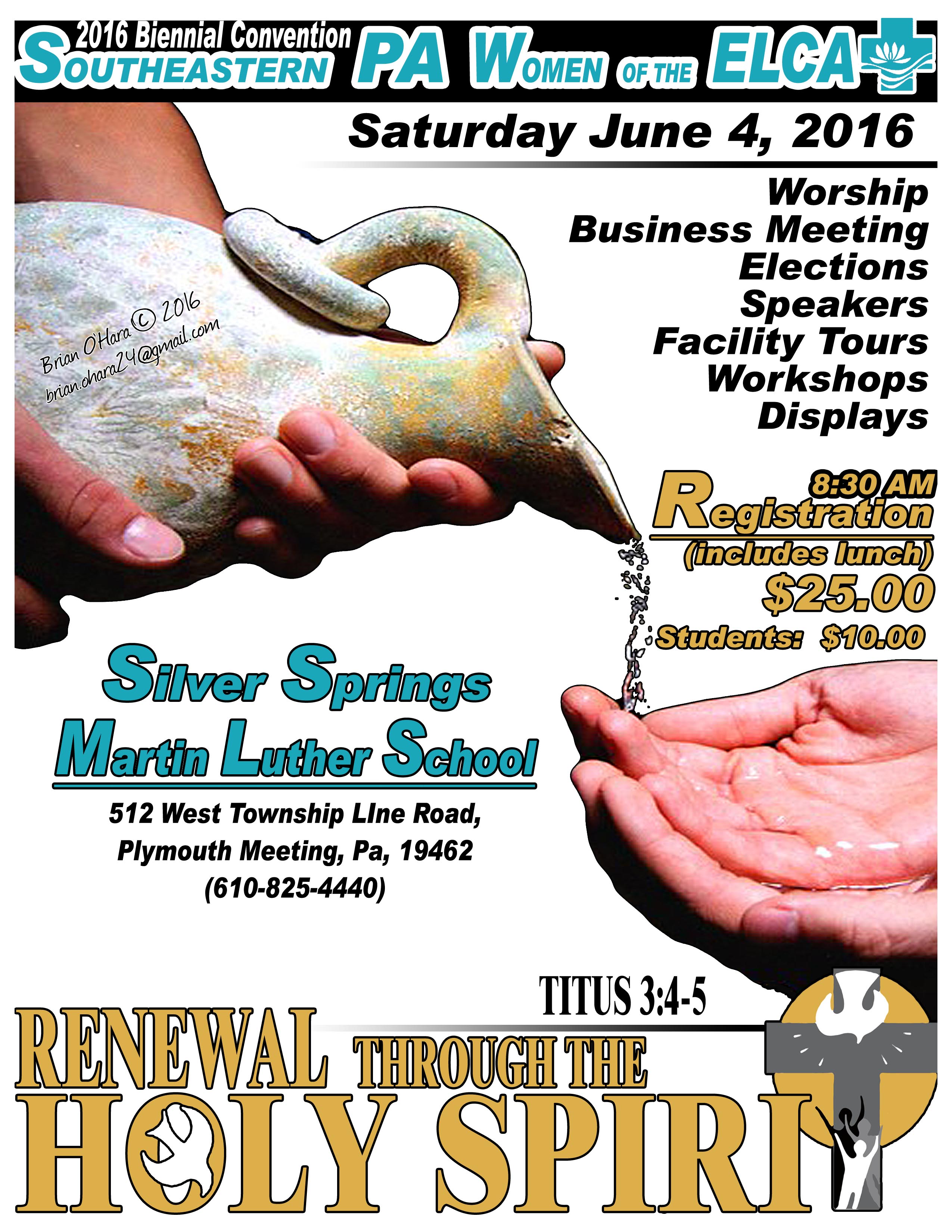 The 2016 Biennial Convention of the Southeastern Pennsylvania Women of the ELCA was held on Saturday, June 4, 2016 at Silver Springs-Martin Luther School. The theme was "Renewal Through the Holy Spirit." We began with worship lead by Pastor Linnnea Clark, of St. John's, Melrose Park. Anissa Canova, a member of the churchwide board, brought greetings, and shared some of the activities of the churchwide organization as well as budget and financial information.  Our keynote speakers, Denise Sterns and Sarah DeGeorge, spoke of the services and students at the school. Their goal is to give the students a new beginning. As breakout sessions, we had the opportunity to tour the campus, have a conversation with our Churchwide Executive Director Linda Post Bushkofsky or learn about a drop in center run by the Salvation Army to help women caught in human trafficking. One comment of the speaker, Katrina Wagner, was that Silver Springs was the last stop for these students before they ended up in her facility.
During our business meeting we elected Lisa Brown and Carol Herstine as our voting members to the Churchwide convention in 2017.
We elected new board members and officers, approved the budget for the next two years, and passed a motion to formalize the board policy of sending at least 60% of unit offerings to Churchwide.
---

---
President's message
All Anew will be the theme of the next Triennial Convention and Gathering when we meet in Minneapolis in 2017.  In preparation for this incredible experience, our meetings and events over the next year will be centered on the related themes of Transformation and Renewal.  Stay tuned for news and registration information in preparation for our 2016 Synodical Convention in particular.  We're looking for help to plan the day – I'm talking to you, party planners! – which will focus on Renewal through the Holy Spirit as written in Titus 3: 4- 5: "when the kindness and love of God our Savior appeared, he saved us, not because of righteous things we had done, but because of his mercy. He saved us through the washing of rebirth and renewal by the Holy Spirit".
As you receive the grace of our Savior during this season of such tremendous change, I pray you use your gifts to do His will, to help others Transform and Renew, in His name.
Respectfully,
Joy Grace
SEPA Synodical WELCA Board President
(email)
---
 Resources
---
Contact Information:
Joy Grace, President (email)
Beatrice Parker, Vice President (email)
Carol Herstine, Secretary (email)
Elaine Keller, Treasurer (email)
Phyllis Boyer, Board (email)
Liz Harmon, Board (email)
Cindy Ryan, Board (email)
Arlette Stansbury, Board (email)