The Synod Stewardship Team offers information, workshops and ideas to help create a culture of year-round stewardship in your congregation. For information contact the chair, Pastor Larry Smoose.
---
Tip of the Month: Half Full or Half Empty?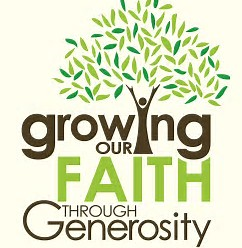 Pastor Blair Morgan, Director for Evangelical Mission in Southwestern Pennsylvania Synod, has done a good job of talking about how we look at what we have, based on a workshop he attended with The Rev. Dr. Marty Stevens of Gettysburg Seminary:
One of the recurring themes that Dr. Stevens covered was the difference between God's sense of and focus on abundance in creation and our human focus on scarcity. It seemed worth highlighting here this month.
There would be many ways of expressing this:
God sees what is while we see what isn't.
God sees the forest while we see the trees.
God works with what God can do while we only tend to work with what we can do.
God sees the possible even as and where we see the impossible.
One way Dr. Stevens shared this perspective with us was through a discussion of the opening chapters of Genesis. She took our thoughts on these verses and built toward the opening half of chapter three and the temptation story. She made a comment that went something like this, "Just think of all of the trees and fruits that were available to Adam and Eve at that point, but they got caught up in wanting the one tree and the one fruit that was forbidden."
There are so many situations in our lives where we have so much available to us, but we get caught up in a focus on what we do not or even cannot have!
This is a wonderful stewardship/discipleship reminder for our journeys through life with God.
Do we really know how blessed we are? Do we ever really stop to think about all with which God has blessed us? Do we do it personally? Do we do it as congregational leaders regarding our congregations?
It is so important as good stewards to keep a clear perspective on this reality of God's abundance and our tendency to get caught up in scarcity thinking.  Do we see our lives as half full or half empty?
Maybe we need to sing along with Bing Crosby with a lesser known tune that he sang to Rosemary Clooney in "White Christmas":
"When you are worried and you can't sleep, just count your blessings instead of sheep.
And you'll go to sleep counting your blessings"                                                                         
Just a thought for all of us who can get a little too caught up in what isn't rather than what is!
---
---
STRENGTHENING CONGREGATIONAL STEWARDSHIP – THE BASICS
MODEL IN THE CONGREGATION WHAT YOU WANT MEMBERS TO PRACTICE
An attitude of gratitude – We are blessed by God, express that in worship, meetings, newsletters, etc. find ways to give thanks
An attitude of sufficiency – God will give us enough for our needs AND to share with others (II Cor 8) Good stewardship is based on our faith in that promise from God and that faith is practiced by what and how we communicate about finances.
First Fruits Giving – we want members to give first to God and to be confident they will still have enough for themselves. The congregation models this by giving first to Partnership Support, with confidence there will be enough for our ministry.
Proportional giving that strives for Tithing and beyond. We encourage members to give proportionately – in accordance with what they have. We should model that and work to give at least 10% in Partnership support.
Intentional Giving – we encourage members to make a commitment – for their sake, so that they can express their intent to God and plan within their budget to meet that commitment as they do for other commitments – mortgage/rent; food; car; insurance, etc. So our congregation makes a commitment for its Partnership support and for other benevolent giving.
Regular giving – we encourage members to give weekly or monthly, knowing that is how we fulfill most of our budgeted expenses. Methods like Simply Giving, or an automatic bank payment are increasingly used. So the congregation should give its proportional share of Partnership support each month.
DEVELOP A CONGREGATIONAL PLAN THAT LIFTS UP A CULTURE OF GOOD STEWARDSHIP
Recruit a team that includes people who exhibit best practices of stewardship (see above)
Include people in various areas of stewardship (time/talent; stewardship of the earth; financial management)
Don't try to do it all at once – a culture of good stewardship will require 5-10 years of intentional planning/practice and a lifetime of reinforcement. Going step by step and trying a few things a year will be more productive.
Include education – both for your team and for the congregation – go to workshops/events; read some good books; bring in local resources.
Goals and specific plans to accomplish them are critical to accomplishing what you want.
Stewardship involves many other areas of congregational life – work together with Education leaders, Worship team members, Outreach teams, and others to help them understand how stewardship is part of what they do and how they can be more intentional about best practices.
DOWNLOADING STEWARDSHIP RESOURCES
These instructions will help you download a variety of resources for Stewardship (and other congregational ministries) from the ELCA.
This is a valuable source of practical information and knowledge-building material to help strengthen congregational ministry.
GO TO ELCA.ORG
UNDER THE NAME/MOTTO LEFT CLICK ON "RESOURCES"
SCROLL DOWN THROUGH THE ARRAY OF RESOURCE TOPICS TO "STEWARDSHIP" AND LEFT CLICK ON IT. (NOTE: THERE ARE OTHER TOPICS THAT COULD BE OF BENEFIT FOR STEWARDSHIP INCLUDING "STORIES OF FAITH IN ACTION"; "LUTHERAN DISASTER RESPONSE;" "GOD'S WORK OUR HANDS" AND OTHERS THAT CAN HELP TELL THE STORY OF HOW OUR STEWARDSHIP DOLLARS WORK AT THE CHURCHWIDE AND GLOBAL LEVEL.
CHOOSE AREAS OF STEWARDSHIP FROM THE BAR – LEADERSHIP, CARE OF CREATION, FINANCES, LIFESTYLE, SPIRITUAL GIFTS, ETC.
SOME OF THE MOST USEFUL, WHICH WE RECOMMEND FOR DOWNLOAD ARE:

Giving Magazine
The Generosity Project
Kids, Money and Stuff (both a leader guide and participant book)
Make it Simple congregational response program (A sample of the Make It Simple Commitment Sunday response calendar is included in this material, but other response methods and supporting materials are on this website)
More Than Money – a workshop to help congregations look at their financial practices and levels of accountability.
ELCA Stewards of God's Love – a comprehensive manual for congregations that want to develop year round stewardship. This can be downloaded or ordered online.
How Much Is Enough? An excellent 60 page booklet on personal stewardship in an age of abundance.
Why Tithe (in the Finances category) helps youth or anyone consider a philosophy of sharing, saving and spending in responsible ways.