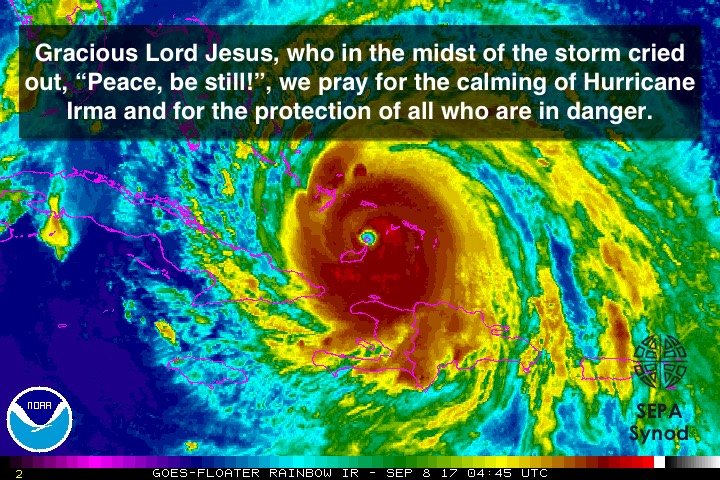 Hurricane Response 2017
Very powerful Hurricane Irma – one of the strongest Atlantic storms ever recorded – is bearing down on Florida and the Southeast United States after wreaking devastation across the Caribbean. This is just two weeks after Harvey caused catastrophic flooding on the Gulf coast, and while forecasters track two other hurricanes in the region.
We pray for all who have been affected or stand in harm's way. These words were shared by Bishop Marcus Lohrmann to the Florida-Bahamas Synod this week:
Gracious Lord Jesus, who in the midst of the storm cried out, "Peace, be still!", we pray for the calming of Hurricane Irma and for the protection of all who are in danger. We pray for those who will place their own lives at risk for the sake of others who are in need. We pray for all in leadership positions in our communities, cities, states and nation that they may demonstrate courage and compassion as they seek to fulfill their responsibilities of providing care for those who seek guidance and relief. And, O Lord, in the midst of our own fears, by your Holy Spirit, grant us the gifts of faith, hope, and love and enfold us in your peace. Amen.
And we can – must – do more.
Disaster response teams are gearing up to assist people along Irma's path while helping people affected by record flooding in Texas and Louisiana begin the long road to recovery.
For now, the best response is donations of cash to trusted relief agencies. Sadly, there are those who would take advantage of these tragedies – learn how to avoid hurricane relief scams.
ELCA Lutheran Disaster Response, and synod disaster funds, direct 100% of your gift to help people who are affected by storms such as Irma and Harvey. Synods need funds to deal with initial emergent problems, and LDR steps in to help people through the long-term process of recovery and rebuilding.
Through the Southeastern Pennsylvania Synod's partnership with Lutheran Disaster Response in Eastern PA, we will be monitoring the situation and let you know the best ways to help the affected communities. In the meantime…
Here's how you can help.

Click the image above to visit the LDR Hurricane Relief donation site.
Give by check:
Make checks payable to Lutheran Disaster Response. Write "Hurricane Response" on your check's memo line and send to:
Evangelical Lutheran Church in America 
P.O. Box 1809 
Merrifield, VA 22116-8009
Give by phone:
Call 800-638-3522 to make a donation with a credit card. Operators are ready to assist you Monday through Friday, 8:00 a.m.-5:00 p.m. Central Time.
Florida-Bahamas Synod
"Designated donations to "Hurricane Irma disaster response" can be mailed to the synod office (3838 W. Cypress St, Tampa, FL 33607). More information about donations is available on the web site." Be advised that mail deliveries may be disrupted for some days. Make electronic gifts at this site.
Iglesia Evangélica Luterana Sinodo del Caribe – Caribbean Synod
Updates at the synod Facebook page.
Southeastern Synod
"If we experience impact here in the Southeastern Synod, our synod will also collect funds for more immediate relief locally."
South Carolina Synod
Visit this web site and give to the "SC Disaster Response" category. Get updates at this page.
Southwest Texas Synod
Visit this website and choose the "Hurricane Harvey-SWTS" fund. Updates here.
Texas-Louisiana Gulf Coast Synod
Updates are available on the synod website. Donate here.
Thank you!
As a church, we Lutherans have a long tradition of helping people recover from storms, floods, fires and other emergencies. We Lutherans are known for being on the ground through the unglamorous work that continues long after TV cameras focus elsewhere.
In this very active hurricane season, thank you for your support for disaster response and recovery.
Posted Sept. 8, 2017 at 9:40 am.
Update: This post was updated Sept. 8, 2017, 2:48 pm to include a link to the Caribbean Synod Facebook page.