November 1, 2017
How To Help Evacuees From Puerto Rico, Virgin Islands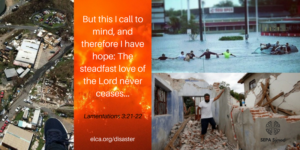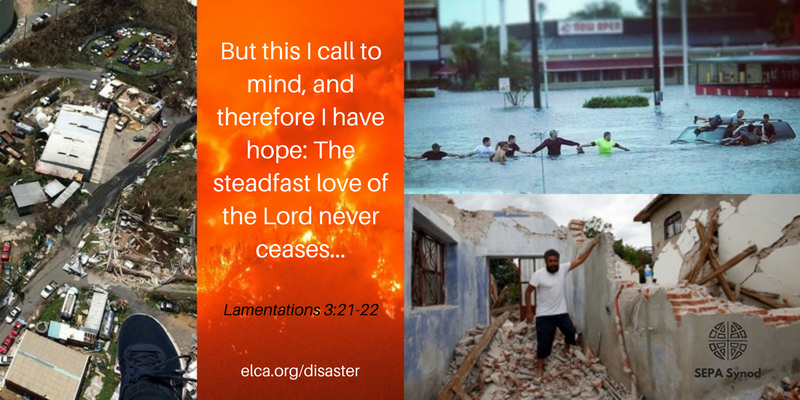 Lutheran Disaster Response – Eastern PA, a ministry of Liberty Lutheran, is working to meet the needs of people self-evacuating to Philadelphia from Puerto Rico and the US Virgin Islands. Right now, cash donations are needed to assist with housing, transportation, and winter clothing. Volunteer Spanish translators are also needed. Please read below to find out how you can help.
The Philadelphia Office of Emergency Management has opened a Disaster Assistance Services Center in the city to help those displaced by recent hurricanes in Puerto Rico and the United States Virgin Islands.  Local, state, federal and non-profit partners are working together to provide information on available services for individuals and families arriving in the Philadelphia area. Many of these individuals do not have friends or family here.
As of early November 2017, approximately 300 families, representing more than 600 individuals have visited the DASC for assistance.  Between 20 and 40 families per day have been registering for several weeks. At the DASC, evacuees can register for FEMA assistance, medical assistance, emergency food stamps, and unemployment assistance.  In addition, evacuees can also obtain career services, medical and behavioral health evaluations and referrals.
Current outstanding needs are related to housing, translation and clothing.
Lutheran Disaster Response – Eastern PA convenes SEPA VOAD (Southeastern PA Voluntary Organizations Active in Disaster). SEPA VOAD is working to help meet these needs. SEPA VOAD includes many partner organizations including the PA Southeast Conference of the United Church of Christ, the Salvation Army, and the Office of Emergency Management in Philadelphia.
How to Help
Here's how you can Lutheran Disaster Response – Eastern PA, and our partners in SEPA VOAD help meet housing, translation, and clothing needs for people self-evacuating from Puerto Rico and the US Virgin Islands:
---
Housing and other relocation needs:
PA Southeast Conference of the United Church of Christ is collecting monetary donations to support intermediate housing needs, transportation, and service fees for things like replacing drivers licenses and obtaining social security cards. To support this effort, please make checks payable to PA Southeast Conference and mark your check DASC and send to PA Southeast Conference, UCC, 1441 Laura Lane, Suite 100, Pottstown, PA 19464.
---
Translation Services:
Volunteer Spanish translators are needed to serve in the DASC. The DASC is open daily from 9 am – 3 pm and located in North Philadelphia. Experience translating is desired but not necessary. The most urgent need is in the morning hours, but the volunteer schedule is flexible. To volunteer, please contact Emma Walton, Community Resilience Coordinator at Philadelphia OEM Emma.Walton@phila.gov.
---
Winter Clothing:
Salvation Army is issuing gift cards to those arriving who need winter clothes. To contribute to this make checks payable to Salvation Army and mark your check "for Hurricane Maria response;" send to Salvation Army, attn: EDS, 701 N. Broad Street, Philadelphia, PA 19123.
---
For more information contact Julia Menzo, Community Outreach Coordinator for Lutheran Congregational Services, a ministry of Liberty Lutheran. She can be reached at 215.430.1299 or jmenzo@libertylutheran.org.