Congregations, Faith in action
September 14, 2021 in
Help Afghan Evacuees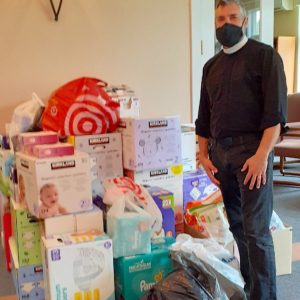 Last week Pastor Nathan Krause of Redeemer, Jamison received a call from a church member who had a contact at Joint Base McGuire-Dix-Lakehurst in New Jersey. That's where many of the refugees from Afghanistan are being processed. The contact related her personal experience of what she was seeing and the needs of the refugees.
The church member and Pastor Krause made a plan to help. They alerted the congregation via email with an immediate appeal for diapers and women's and children's undergarments. Several neighboring congregations including Redeemer, Penndel also responded and brought donations of their own. As of Sunday, they had delivered three carloads of diapers and undergarments to the Red Cross in New Jersey. Rev. Krause is now reaching out to others in the area for additional support.
The base has informed the Red Cross of the following needs:
Children's toys
Diapers
Baby wipes
Hairbrushes
Coloring books / crayons
Shower sandals
Full size shampoo
Cotton undergarments for men, women, and children
Redeemer Lutheran Church will continue to collect these items through the month of September. You may drop off items at the church, 2100 York Road, Jamison, the church with the clever sign along York Road. Arrange drop off appointments by calling 215-343-1121 or by emailing
office@redeemejamison.org
.