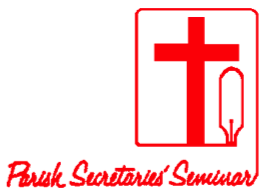 Parish Secretaries, Administrative Assistants, Business Managers, or Office Assistants are cordially invited to jthe annual Parish Secretaries' Seminar, which will be held at the October 3 and 4 at Bird-in-Hand Family Inn, in Bird-in-Hand, PA.
The Parish Secretaries' Seminar is a one and a half day ecumenical, educational, non -profit seminar designed to provide opportunities to strengthen work skills needed in the modern office, to network with other secretaries/administrators, and to grow spiritually.
This year's theme is "Bridge Over Troubled Water." Sessions include:
"Staying Out of the Storm" which will help us wade through the myriad of politics in today's church
"Making Your Way Through the Fog" which will help churches dealing with budgetary cuts and down-sizing
"Financial Lifeboat" a discussion of ways to put the 'fun' back into fund-raising
Early registration ends July 17.
Registration closes August 22.
Download this letter and registration form for full details: