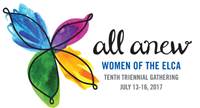 The INGATHERING of quilts and kits for Lutheran World Relief (LWR) will be part of the Synod Assembly this year. We'll be sorting and packing all synodical donations on Saturday, May 6, from 8-9 am in the parking lot of Franconia Mennonite Church, preceding morning worship.  The truck will deliver everything directly to LWR in Maryland on Monday, June 8.
In order for this to be as successful as possible, please consider the following:
Instructions for the kits and quilts, as well as how to pack them for transport, can be found on the LWR website:  https://lwr.org/get-involved
We require funds to rent the truck and pay for gas and tolls.  This trip can be costly for an individual or a single church, but we're asking for a donation of just $50 from every participating church.  It's helpful to have these funds in advance.  Checks should be written to Women of the ELCA, with Ingathering 2017 on the memo line.  Mail your checks to Elaine Keller, WELCA Synodical Board Treasurer, 213 Pottstown Avenue, Pennsburg, PA 18073.
Volunteers are needed to collect and count donations, and pack the truck on Saturday, May 6.  Some of you are already skilled at this – we hope you'll be available to help train some new recruits!  Please notify us of your intention to join the team by contacting Joy Grace, WELCA Synodical Board President, at 484.432.8087.
Finally, please contact Liz Harmon, WELCA Board member, at lzharmon63@gmail.com or Saint Luke, Devon at 610.688.0122 with the number of quilts and/or kits you are planning to bring, to help us determine the right size truck to rent.
We're looking forward to an overwhelming response from Southeastern Pennsylvania Lutherans.  Thank you in advance!
Women of the ELCA Synodical Board
Southeastern Pennsylvania Synod