SEPA Pandemic Guidance and Resources
Updated: May 14, 2021
Latest Pandemic-Related Articles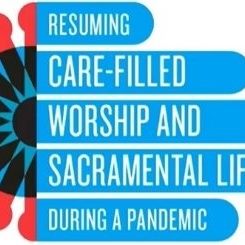 The
CDC released new guidance
for vaccinated
individuals
on May 13. Guidance has been changing over the last week, and this does not require immediate change by congregations. The CDC has not yet released updates for businesses, schools, or community gatherings.
It is important to note that Governor Wolf has said that he will not end the mask mandate in Pennsylvania until 70% of eligible persons are vaccinated. Currently, we are at 54% vaccinated. The rest of the governor's restrictions remain in place until May 31.
As was noted in
our webinar this week
with Dr. Tim Babinchak, adults who are unvaccinated and children, as well as people with conditions that can lead to more serious disease, are now the population most at risk.
We encourage you to continue acting to protect the safety of your congregation and your community.
The Ecumenical Consultation on Protocols for Worship, Fellowship and Sacramental Practices, whose guidance we have been recommending, released the following
helpful advice for congregations
May 13:
The latest CDC guidance for masks and social distancing is for what INDIVIDUALS CAN do– not what CONGREGATIONS (in which both vaccinated and unvaccinated people gather together) SHOULD do.
As a Consultation we are committed BOTH to CDC guidance AND to the principle that we will not cause stigma about either illness or vaccination status. We encourage compassion for all who are sick and vaccination, at the soonest time possible, for all who are unvaccinated.
Many congregations include people who are unvaccinated, including children, older persons who have not yet been able to be vaccinated, and some who have refused vaccination. Unvaccinated people of any age can get the virus and spread it to others who are unvaccinated.
When we are among those who may be unvaccinated, we recommend being as the unvaccinated for the sake of the unvaccinated– for their safety, and to avoid stigmatizing them.
We are one body in Christ, no more protected than the least protected among us.
In concrete terms, whenever we gather in groups that may include non-vaccinated people, we continue to recommend that all wear masks, that households remain six feet apart, and that congregational and choral singing be avoided indoors.
Infectious Disease Expert Shares COVID Update
COVID is not going away, yet we now have effective vaccines and effectual therapies to reduce the incidences of infections and deaths, infectious disease specialist Dr. Tim Babinchak told SEPA leaders in a Zoom conference May 11.
Dr. Babinchak, a member of St. John's Lutheran Church, Phoenixville, and retired head of infectious diseases at Thomas Jefferson University Hospital, said that there are no zero-risk guarantees and church leaders will have to decide what risks they and their attendees are willing to take in returning to in-person worship.
Dr. Babinchak proposed a four-step process for making decisions based on the makeup of a congregation:
| | |
| --- | --- |
| "WHO" | Are the people who attend vaccinated or unvaccinated? Do they have underlying conditions that might hamper the effectiveness of vaccines or lead to more serious cases? |
| "WHERE" | Outside is always better than indoors. Sufficient ventilation with outside air to dilute potential virus concentrations is always better than indoors in a poorly or non-ventilated space. |
| "WHEN" | The longer the event, the higher the risk. An hour-long worship service carries different risks than an hours-long meeting or a full-day childcare setting. |
| "HOW" | In order to minimize the risk to the most vulnerable, continue basic steps of hand-washing, masking, and distancing and consider continuing online avenues of participation for those for whom it may not be wise to attend in-person. |
Here are some general takeaways from Dr. Babinchak's presentation:
Outdoors gatherings are always safer than indoors.
People should not attend church if they are sick
Emphasize hand-washing. Open restrooms or provide other ways for people to wash hands at church.
Wearing masks and maintaining distance will always lower risk.
If wearing your mask is comfortable, it's probably not on correctly. Proper fit is important.
Dr. Babinchak suggested that singing softly and soft liturgical responses with masks is possible indoors and outdoors. Distancing reduces risk.
For vaccinated persons, there should be no issue with sharing communion as usual, Dr. Babinchak said. Provide other options for unvaccinated or vulnerable persons.
Coffee hours and social times are best done outdoors and kept short.
It is safe to return hymnals to the pews. As long as people wash hands and stay home if they are sick, there should be no problem.
There is little risk of transmission when people move in the sanctuary; for example, to read at the lectern or participate in a children's sermon.
Updated: Decision-making Resources
A Word of Caution from Bishop Davenport
Greetings SEPA Synod,
First, thank you for an efficient, and expeditious thirty-third Synod Assembly. Hearing the latest COVID-19 numbers, cases are still very high across our area. I am reminded of the television show, Lost in Space. I remember the robot calling out in caution to the young traveler: "Danger, danger, Will Robinson."
Let me offer a word of caution as we journey into warmer weather, with more of us being vaccinated and a strong pull for returning to in-person worship. I know we are all weary of looking at screens, we want to see our church family, we want to gather at the communion table as one.
Please be patient, we can do this a little while longer. These new covid variants are much more contagious. I am appealing to you, be mindful of our stewardship of life, as disciples. What is stewardship of life? It's "an abiding perspective on the mutuality of life in human society; a personal stance and attitude that defines an obligation to serve and take responsibility for all we have been given."
Although many of us have been vaccinated, we must still wear our masks, and physically distance to keep others safe.
Please continue to follow the CDC and ecumenical guidelines as listed below.
Stay blessed and stay safe.
+ The Rev. Patricia A. Davenport,
Bishop
Resuming Care-Filled Worship and Sacramental Life
CDC Issues New Guidance for Safe Indoor and Outdoor Gatherings
This week the CDC issued new guidance for how people who are fully vaccinated can resume many activities, and indicating how relatively safe those activities are for people who are unvaccinated.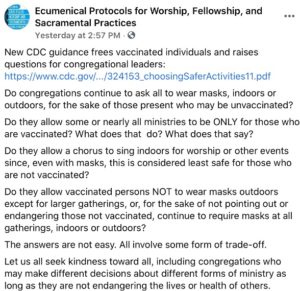 "New CDC guidance frees vaccinated individuals and raises questions for congregational leaders," the Ecumenical Consultation on Protocols for Worship, Fellowship, and Sacramental Practices wrote in a Facebook Post April 28.
"Do congregations continue to ask all to wear masks, indoors or outdoors, for the sake of those present who may be unvaccinated? Do they allow some or nearly all ministries to be ONLY for those who are vaccinated? What does that do? What does that say? Do they allow vaccinated persons NOT to wear masks outdoors except for larger gatherings, or, for the sake of not pointing out or endangering those not vaccinated, continue to require masks at all gatherings, indoors or outdoors?
"The answers are not easy. All involve some form of trade-off."
The Consultation met April 27 to discuss the implications of the CDC guidance. [ Watch the conversation here. ] The group expects to issue updated protocols by early June.
Metrics for Resuming In-Person Worship
In the meantime, the consultation's current
guidance
offers metrics for considering returning to in-person outdoor or indoor worship. The guidance notes that limited outdoor or indoor worship gatherings with people outside one's household may be safe
if all three of the criteria in the appropriate column of the graphic below are met.
This guidance assumes that worshippers who gather
properly wear a mask, two masks if indoors
maintain at least 6-feet of distance from others outside of their household
have no COVID symptoms or known exposure to people with symptoms or a positive test result
refrain from congregational singing indoors
The bishop recommends that worship leaders and congregants gathering in-person adhere to the CDC's advice for masking.
Ecumenical Consultation documents:
Local COVID-19 Risk
Realtime Trendlines for the Region
Current Recommendations for Philadelphia Metro Region
A Message from Bishop Davenport
Synod Guidance for Congregations
Guidelines For Virtual Congregational Meetings
Pennsylvania does not set or enforce occupancy limits for worship services. We note, however, that the virus behaves similarly in houses of worship as in other businesses. Our faith calls us to be cautious to protect people at risk of serious outcomes in our congregations and in the communities that we serve.
Currently Pennsylvania limits indoor community gatherings under 2,000 people to 10% of the venue's fire code occupancy. Theaters, for comparison, are limited to 50% of maximum occupancy. This assumes that facilities take steps to address ventilation and assure cleaning in between uses.
Congregations will have to make a judgment call based on their demographics, the preparedness of their facility, and the situation in their community. We recommend adhering to the state limits and moving toward the lower end of the 10% to 50% range when possible.
The Consultation's guidance recommends determining local risk with data from the COVID Act Now website, https://covidactnow.org.
COVID Act Now is an independent non-profit that works with Georgetown University Center for Global Health Science and Security, Stanford University Clinical Excellence Research Center, and Harvard Global Health Institute, and aggregates data from federal, state and local sources.
Considerations for Reopening Churches
Bishop Davenport continues to urge congregations to err on the side of safety when determining if and when to return to in-person worship. Bringing people together affects not just the rostered ministers, worship leaders and congregants of a church but, because such gatherings have the potential to be "super-spreader" events, the households, workplaces, and communities to which people return are also affected.
"Our highest priority is to do no harm" in the process of reopening churches, the Bishop says. The synod itself is taking a deliberate approach to resuming work at the office in Mt. Airy, with staff continuing to work remotely as protocols are developed for how to safely share and sanitize the space and equipment, air flow and related issues.
"In this new abnormal, our concerns are for our rostered ministers and members who are vulnerable because of their age and/or underlying conditions," the bishop said. "We want everyone to be safe and show Christ's love for their vulnerable neighbors as we learn whether our area will see new outbreaks."
The experience of regions of our state and nation show that the incidence of COVID-19 in a community can change suddenly and significantly. Recognize that all decisions are provisional and may need to be changed as disease rates and public-health guidance is updated.
The medical community is still learning about COVID-19. We are still in the early stages of what could be a prolonged battle against this pandemic. Information and guidance changes rapidly. Please consult the web pages of the World Health Organization, the CDC and the Pennsylvania Department of Health before making plans.
Highlights of what we do know*:
Evidence increasingly shows that aerosols — small droplets spread by individuals speaking and breathing, which can remain in the air in a room for some time and spread beyond six feet — is a significant factor in viral spread.
Latest CDC guidance urges double-masking.
Masks should be warn by all participants at all times, per the governor's order. The CDC now recommends wearing two masks in public.
Social distancing should be maintained between households.
Leaders who are speaking/projecting should be more than the standard six-feet distance from the congregation.
Outdoor gatherings are preferable to indoors.
Singing (even masked), playing wind instruments, and spoken congregational responses are strongly discouraged
Indoors, proper ventilation is necessary. CDC recommends that heating and cooling systems be calibrated to circulate at least 15% fresh outdoor air. Systems should be outfitted with proper filters, which should be changed regularly.
Indoor relative humidity of 40=60% is encouraged to lower spread of the virus.
Water faucets, fountains, toilets, etc. should be run/flushed weekly to avoid the possibility of disease spread by stagnant water. If a building has not been used in some time, take care to flush all water lines before re-opening.
All congregations/agencies are encouraged to consult with their insurance carrier to determine requirements to maintain coverage when reopening.
*This information is gleaned from government, academic, and media sources and does not constitute official guidelines of the Synod. Be sure to consult official sources in your decision-making process.
Latest Pandemic-Related Articles
Under the commonwealth's order for employees to telework when possible, synod staff are working remotely most of the time. The staff is working hard from home and channels of communication (phone, email) are the same. The staff is in regular touch to coordinate efforts.
CDC Considerations for Communities of Faith
CDC Information About Variants
CDC Indicators of Community Transmission metrics for reopening schools
CDC Guidance for Community Organizations and Gatherings
Pennsylvania Department of Health COVID-19 Early Warning Dashboard
CDC Events and Gatherings Readiness and Planning Tool
Video: Preparing Heating/Cooling Systems — On Oct. 1, our communicators group was joined by Mr. Dennis Smith, manager of buildings and grounds at Trinity Lutheran Church, Lansdale. Dennis shared with us good information about airflow requirements, ways to improve ventilation in enclosed spaces, and other considerations in reopening church facilities.
Updated: May 14, 2021 by Bob Fisher
---