SEPA Church Together
Updated: Jan. 5, 2021
Bishop Davenport strongly recommends that congregations do not hold in-person indoor worship until further notice.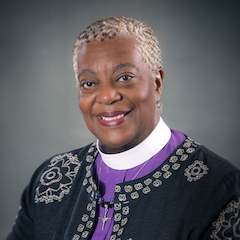 As we enter this new year 2021, I am writing to extend my strong recommendation that congregations do not offer in-person worship until further notice. My recommendation, made after much prayer and discernment, is based on our core Lutheran conviction of loving our neighbors – whether they be people in our communities, congregation members, or our rostered ministers.
No one, including pastors, deacons, church staff, and members who may be compromised in ways that make them vulnerable to severe cases of coronavirus, should be required to risk infection by participating in worship, education, or meetings that can be offered remotely. The evidence continues to show that extended gathering indoors, even with masking and distancing, is a major way that this virus spreads.
We are blessed to be able to gather over the miles in sacred cyberspace, and I encourage all leaders and congregations to use this time to advance their strategy and skills to leverage the tools our technological age has provided. … Read more
PA COVID-19 Early Warning System Dashboard
As of December 31, all 67 counties have "substantial" transmission of the virus. New cases and hospitalizations are showing slight declines (from historic highs) across southeastern Pennsylvania.
Under the commonwealth's order for employees to telework when possible, synod staff are working remotely. The staff is working hard from home and channels of communication (phone, email) are the same. The staff is in regular touch to coordinate efforts.
A Word of Encouragement from Bishop Davenport
Considerations for Reopening Churches
Bishop Davenport continues to urge congregations to err on the side of safety when determining if and when to return to in-person worship. Bringing people together affects not just the rostered ministers, worship leaders and congregants of a church but, because such gatherings have the potential to be "super-spreader" events, the households, workplaces, and communities to which people return are also affected.
"Our highest priority is to do no harm" in the process of reopening churches, the Bishop says. The synod itself is taking a deliberate approach to resuming work at the office in Mt. Airy, with staff continuing to work remotely as protocols are developed for how to safely share and sanitize the space and equipment, air flow and related issues.
"In this new abnormal, our concerns are for our rostered ministers and members who are vulnerable because of their age and/or underlying conditions," the bishop said. "We want everyone to be safe and show Christ's love for their vulnerable neighbors as we learn whether our area will see new outbreaks."
The experience of regions of our state and nation show that the incidence of COVID-19 in a community can change suddenly and significantly. Recognize that all decisions are provisional and may need to be changed as disease rates and public-health guidance is updated.
The medical community is still learning about COVID-19. We are still in the early stages of what could be a prolonged battle against this pandemic. Information and guidance changes rapidly. Please consult the web pages of the World Health Organization, the CDC and the Pennsylvania Department of Health before making plans.
Highlights of what we do know*:
Evidence increasingly shows that aerosols — small droplets spread by individuals speaking and breathing, which can remain in the air in a room for some time and spread beyond six feet — is a significant factor in viral spread.
Masks should be warn by all participants at all times, per the governor's order.
Social distancing should be maintained between households.
Leaders who are speaking/projecting should be more than the standard six-feet distance from the congregation.
Outdoor gatherings are preferable to indoors.
Singing (even masked), playing wind instruments, and spoken congregational responses are strongly discouraged
Indoors, proper ventilation is necessary. CDC recommends that heating and cooling systems be calibrated to circulate at least 15% fresh outdoor air. Systems should be outfitted with proper filters, which should be changed regularly.
Indoor relative humidity of 40=60% is encouraged to lower spread of the virus.
Water faucets, fountains, toilets, etc. should be run/flushed weekly to avoid the possibility of disease spread by stagnant water. If a building has not been used in some time, take care to flush all water lines before re-opening.
All congregations/agencies are encouraged to consult with their insurance carrier to determine requirements to maintain coverage when reopening.
*This information is gleaned from government, academic, and media sources and does not constitute official guidelines of the Synod. Be sure to consult official sources in your decision-making process.
The following resources may prove helpful:
Pennsylvania Department of Health COVID-19 Early Warning Dashboard
NEW! CDC Events and Gatherings Readiness and Planning Tool
NEW! CDC: How COVID-19 Spreads
Video: Preparing Heating/Cooling Systems — On Oct. 1, our communicators group was joined by Mr. Dennis Smith, manager of buildings and grounds at Trinity Lutheran Church, Lansdale. Dennis shared with us good information about airflow requirements, ways to improve ventilation in enclosed spaces, and other considerations in reopening church facilities.
Diocese of Pennsylvania:Updated Protocols on Singing and Ventilation — Insights from an ecumenical partner.
Considerations for safely reopening by Church Mutual — Church Mutual offers a webinar, slides and guidelines to prepare and implement a plan to safely reopen churches.
CDC Guidelines for Faith-Based Organizations
COVID Guidance for Schools from ELEA
ELCA: Resources for Returning to In-Person Worship — Considerations for being church together during the COVID-19 pandemic. | Spanish
"Resuming Care-filled Worship and Sacramental Life During a Pandemic" — Protocols for worship during the COVID-19 pandemic as commended by an ecumenical consultation. | Spanish
"Worship in Times of Public Health Concerns: COVID-19/Coronavirus" — Considerations for building church community and participating in worship when we cannot gather in person. | Spanish
Resources Provided by Congregations:
Decision Tool from Emmanuel, Souderton
Archived Documents:
Bishop Davenport Urges Churches Not to Reopen Until July 1 (May 23)
Considerations for Churches under PA Process for Reopening (May 27)
ELCA: "Congregational Planning Checklist for Public Health Concerns" — Lutheran Disaster Response details how you and your congregation can plan for the impact of a public health crisis in your church. | Spanish
ELCA: "Considerations for Remote Council and Congregation Meetings During the COVID-19 Pandemic" — Frequently asked questions regarding appropriate use of technology to conduct the business of your congregation.
Other Resources:
Reopen.church — Service that helps churches reopen safely in the age of the coronavirus by providing a simple (and free) registration form that distributes people across multiple services and rooms.
Background Reading:
FAQs on Protecting Yourself from COVID-19 Aerosol Transmission — Document compiled by scientists and engineers with many years of experience in this field. Updated regularly.
Article: When It Comes to Covid-19, Most of Us Have Risk Exactly Backward — A Pediatrician on how to judge personal/corporate risk.
Article: This Overlooked Variable Is the Key to the Pandemic — An engineering professor sheds light on the importance of super-spreading events.
​Sunday School @ Home: From Dan Fugate of the Indiana-Kentucky Synod
Faith Finder Fun: Mon-Sat Videos: Backyard Monday, Treasure Tuesday, Creative Wednesday, Magic Thursday, Science Friday and Random Sat.
​Illustrated Ministry: Free Devotionals and Coloring Pages
Morning Watch: Daily videos with scripture/song/prayer – one for everyone, one specifically for kids and families. (From 2 ELCA pastors in NC)
Updated: November 20, 2020 by Bob Fisher
---