SEPA Pandemic Guidance and Resources
Updated: January 5, 2023 by Bob Fisher
The Synod offices are open. Masks are required for staff and visitors.
Per the CDC: Take action to protect yourself and others from COVID-19 based on the COVID-19 Community Level in your area. People may choose to wear a mask at any time. Masks are recommended in indoor public transportation settings and may be required in other places by local or state authorities.
Latest Pandemic-Related Articles COVID Data
REVISED COVID Protocol: Synod Events During the Lingering Pandemic
To safeguard the health and safety of event participants, synod teams, volunteers, and staff, we adopt the following protocols for synod-sponsored events. Our goal is to limit exposure to COVID and other airborne viruses, which will reduce illness, hospitalizations, and deaths.
At this writing the XBB 1.5 variant, known to be highly transmissible and immune-evasive, is growing in circulation in this region.
Community context

If local government or schools require the use of masks, we require masks to be worn at Synod events.

COVID transmission and impact

If the CDC Community Levels are MEDIUM or HIGH, and/or CDC Community Transmission levels are SUBSTANTIAL or HIGH, masks are required to be worn.[1]
Effective masks include N95, KN95 or equivalents. Surgical and cloth masks are not sufficient.
If CDC Community Levels and Transmission levels are both HIGH consider moving the event online or postponing the event.
The organizer(s) may determine that masking is necessary to allow inclusion of immunocompromised or at-risk persons, regardless of Community Level.
Masks are strongly encouraged at all indoor gatherings, regardless of CDC levels.

All participants

STAY HOME if experiencing symptoms of cold, sore throat, fever, or gastrointestinal issues.
Have a negative test 24-48 hours prior to the start of the event, if possible.
Maintain physical distancing and wash hands regularly.

Presenters and event staff

Provide proof of being up to date with vaccinations, defined by the CDC as receiving all doses in the primary series and booster doses.

Considerations for event organizers

If possible, organizers should plan for an online option for those who do not wish to attend in-person.
Work with the venue to provide adequate ventilation with fresh air exchange.
Consider limiting attendance to allow for physical distancing.
[1] Medium and High Community Levels indicate that transmission is substantial and that COVID is impacting hospitals.
---
Philadelphia Health Officials Now 'Suggest' Wearing Masks Indoors (April 5, 2022)
From 6ABC:
Revised Protocol For Synod Events (April 5, 2022)
The synod has revised its protocol for synod-sponsored or related events. A primary recommendation is common sense: Attendees, organizers and presenters should STAY HOME if they are feeling sick. The guidelines call for following CDC Community Levels for wearing masks, and reserves the right for event organizers to require masks to protect attendees regardless of the community level. Because synod events by nature bring people together from across a wide geographical area, proof of up-to-date vaccination is still required. Organizers are encouraged to provide online options for events and to provide adequate ventilation.
Download the protocol: Synod Events During the Pandemic April 5
Dr. Babinchak: We are at "steady state" of Virus -- For Now (Feb. 24, 2022)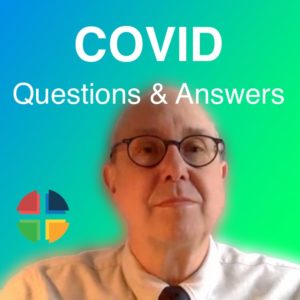 Dr. Tim Babinchak, infectious disease specialist, joined congregation leaders for a question and answer session on Feb. 24.
Dr. Babinchak, a member of St. Johns, Phoenixville, discussed moving forward post-omicron variant surge and making decisions about congregational life and activities.
[Scroll down to watch the video]
Dr. Babinchak noted that cases are declining rapidly and there is no new variant posing a serious threat right now. With more than three-quarters of Americans protected by vaccines and, to a lesser extent, by previous infection, we are right now in a status-quo situation with the virus.
"This is going to be the steady state for the (near) future," he said. Yet we must be vigilant for circumstances that may cause us to reinstate protective measures. "We may see mitigations come back. Not if, but when the world changes, we will have to adapt to what comes along."
Recent events in Ukraine are examples of the kinds of disruptions that can relocate populations, put people in touch who otherwise wouldn't be, and thus provide an opportunity for the virus to take advantage of the situation to spread and perhaps mutate.
We still need to be concerned about children under 5 in our congregations who cannot yet be vaccinated, and maintain protective protocols including masks where they are present.
The other high-risk population includes those who have chosen not to take the readily available vaccines. "For those who are not vaccinated, any (indoor group) activities will continue to provide them with risk, but it is a risk they have willingly chosen to accept."
Congregations need to assess their people's risks and feelings about protections to make decisions about what protections, if any, to relax, and by how much.
Bottom line: We are at a baseline right now where risks for boosted individuals are about where they were pre-COVID. But future outbreaks, new variants, and possible seasonality will require churches to be adaptable and add protections if conditions worsen.
Watch Video
Index

0:00 — Where do we stand?

10:59 — What do we know about B.A. 2?

13:40 — How do we keep track of the rate of transmissibility?

15:08 — What about so-called "Long COVID" as a differentiator between COVID and the flu?

19:48 — How should congregations address congregant's risks and concerns?

21:15 — Of the transmissibility numbers that we see, what is considered low or high?

24:09 — How has the discussion changed around personal responsibility and infectious diseases?

25:35 — How risky is eating together — suppers, communion?

29:26 — What recommendations do you have about masking in nursery schools, especially if there are immunocompromised children?

31:30 — How do various protections -- hand washing, wearing masks, increasing ventilation -- work together?

33:18 — Is ti too soon for a vaccinated choir to not wear masks for Holy Week singing?

34:38 — Is there a need to continue keeping lists for contact tracing?

35:00 — It was my understanding that both Pfizer and Moderna were both working on a "fine tuned" booster. Is there any advantage to a mix up of any booster or should one hold out for the custom made version?

37:47 - I'm triple vaxxed and had an almost asymptomatic infection in January - is it possible for me to still carry the virus and infect my unvaccinated grandchildren?

39:10 — Might it be responsible, that we go back to communion at the altar with individual cups when transmissibility is down and just let people assume their own responsibility?

41:00 — Is there a relationship between vaccine and hearing issues?

43:17 — Should we warn unvaccinated people that we are going back to normal, and tell them the risk is theirs? 45:25 — How will our experience affect our understanding of epidemiology going forward?

47:07 — will we be like other places in the world where we will take precautions like wearing masks when respiratory viruses are prevalent?

COVID Update from Bishop Davenport (February 16, 2022)
A message from the bishop

Dear Beloved,

I am grateful that COVID cases and hospitalizations have been declining quickly across southeastern Pennsylvania. I pray that this trend continues. In order to protect the people we serve, I encourage you to keep finding safe ways to gather in person as well as offer complementary online access.

Our leaders and congregations have adapted and grown so much during the last two years. We have hope that this flexibility and our traditions will blend as we move forward with congregational life that is faithful and safe.

After nearly two years of protective measures, it can be tempting to let down our guard and return to "normal." Please keep in mind that for families with children under five who cannot be vaccinated, for people on chemotherapy or with chronic illness, and for our elders, these times are not normal. I am mindful that one reason cases have fallen so quickly is we have adhered to simple steps to protect others and ourselves. We want to continue to do all we can to make it hard for the virus to mutate and spread.

With that in mind I offer the following recommendations for protective measures. I trust that our rostered ministers and church councils, who must make these difficult decisions for congregations, will do their best to keep our worshippers and communities as safe as possible.

Per CDC recommendation, everyone should wear a mask indoors.

Medical experts recommend that everyone wear a protective N95 or KN95 mask.

Encourage in-person attendees to be fully vaccinated and boosted.

Increase fresh air ventilation via a properly filtered air-handling system and opening windows and doors to increase circulation.

Use technology to connect with persons unable to attend in-person.

Maintain physical distancing indoors.

Consider outdoor and online options when appropriate.

This virus continues to challenge and surprise us, and we must all be prepared to respond differently if circumstances change.

I and the entire Synod staff are holding you in prayer as we move through this new abnormal. We appreciate your prayers for us as well.

Be safe!

In Christ,

Rev. Patricia A. Davenport, bishop
Previously featured:
Winter COVID Update with Dr. Babinchak (11/23/21)
Watch by clicking this link (Passcode is sepa!comms2021).
Latest Pandemic-Related Articles
---