2013 Churchwide Assembly Report


A massive projection of "Always Being Made New" kept the Assembly theme in front of voting members.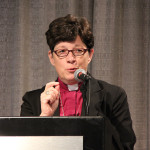 Elizabeth Eaton elected Presiding Bishop
The theme for the Churchwide Assembly was "Always Being Made New," and the assembly lived out that theme by electing the Rev. Elizabeth Eaton, bishop of the Northeastern Ohio Synod, to serve as the ELCA's next Presiding Bishop. Eaton is the first woman to be elected to the post. On the fifth ballot Aug. 14, Eaton received 600 votes and the Rev. Mark S. Hanson, the incumbent presiding bishop, received 287.
http://www.elca.org/Who-We-Are/Our-Three-Expressions/Churchwide-Organization/Communication-Services/News/Releases.aspx?a=5329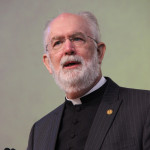 William Chris Boerger elected secretary
William Chris Boerger, a member of Christ the King Lutheran Church in Snohomish, Wash., was elected Aug. 16 to a six-year term as ELCA secretary. Boerger was bishop of the Northwest Washington Synod.
http://www.elca.org/Who-We-Are/Our-Three-Expressions/Churchwide-Organization/Communication-Services/News/Releases.aspx?a=5333
Bishop Hanson reflects on 12 years in Assembly report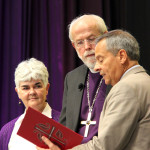 In his final report as Presiding Bishop, the Rev. Mark Hanson asked the assembly to consider the book of Acts and what new chapters might say. "What will those chapters tell of what the Holy Spirit is doing among and with the Evangelical Lutheran Church in America?"
Hanson said, "This is what I pray will be written when the Holy Spirit is adding new chapters to the book of Acts: 'The Evangelical Lutheran Church in America, 4 million baptized believers in Jesus Christ, was filled with the power of the Holy Spirit.' It is more than the prayerful longing of a Bishop's heart. It's Jesus' promise."
ELCA Vice President Carlos Pena led the Assembly in a liturgy of thanksgiving for the ministry of Hanson and his wife, Ione, and presented Hanson with the Servus Dei Medal.
http://blogs.elca.org/assemblynews/post/elca-presiding-bishop-delivers-report-to-2013-churchwide-assembly-15
ELCA's first major fundraising campaign approved
The Assembly approved a five-year, $198 million fundraising campaign, to begin in 2014, designed to increase the church's capacity to renew and start new congregations, educate and develop its leaders, bolster its global mission efforts and expand the impact of its relief and development work.
http://www.elca.org/Who-We-Are/Our-Three-Expressions/Churchwide-Organization/Communication-Services/News/Releases.aspx?a=5332
Social statement on criminal justice adopted
The Assembly approved "The Church and Criminal Justice: Hearing the Cries," a social statement that affirms the fundamental principles of the U.S. criminal justice system, such as due process of law and the presumption of legal innocence, and also recognizes serious deficiencies — overly harsh sentencing and persistent inequalities based on race and class. It calls ELCA members to ministry and compassion through some practices: hearing the cries of those affected, accompaniment, hospitality and advocacy. It asks members of this church to recommit themselves to visiting the prisoner; correct the flawed criminal justice system; participate in God's work with hands and hearts and to hear the cries of people affected.
Linda Manson, mission developer of Living Gospel ministries and a member of the task force, shared with the assembly that she has worked with former offenders who are re-establishing themselves as members of their communities. "I have seen the obstacles presented by the 'invisible' punishments they experience, such as restrictions on employment, housing and vastly decreased educational opportunities," she said.
http://www.elca.org/Who-We-Are/Our-Three-Expressions/Churchwide-Organization/Communication-Services/News/Releases.aspx
Malaria Campaign passes half-way mark
To date the ELCA Malaria Campaign has raised $8.7 million – more than halfway to the goal of $15 million by 2015. So far some 7,000 staff and volunteers have been trained to educate their communities in sub-Saharan Africa about malaria prevention and control, and they have reached more than 1.7 million people, said Jessica Nipp Hacker, campaign coordinator. "Our challenge today is to finish the campaign strong," she said.
http://blogs.elca.org/assemblynews/post/elca-churchwide-assembly-receives-malaria-campaign-report-16
Assembly acted on Israel and Palestine proposals, and more
The Evangelical Lutheran Church in America (ELCA) is committed to supporting a peaceful resolution to the conflict between Israel and Palestine and took measures to ensure that commitment Aug. 17, including a memorial designed to continue this church's awareness-building, accompaniment and advocacy on behalf of peaceful resolutions in the Middle East.
http://blogs.elca.org/assemblynews/post/elca-assembly-acted-on-israel-and-palestine-proposals-and-more-17
Starting new congregations remains a priority
Since the ELCA began 25 years ago, 435 new congregations have officially organized. Today there are 330 new starts currently under development, including 56 new starts in 2012. In the past four years, ELCA members kept their commitment that at least half of this church's new starts is in a "situation of deep poverty" or part of "one of our ethnic strategies." The Rev. Stephen Bouman, executive director of Congregational and Synodical Mission, said that there are now 20 new starts engaging mostly the emerging young adult generation.
http://blogs.elca.org/assemblynews/post/starting-new-congregations-remains-a-top-priority-in-the-elca-13
Congregational renewal: Recovering the "first love" of mission
"At the heart of the mission of our church and its 25th anniversary are congregations," the Rev. Ruben Duran, ELCA director for new starts, told the Assembly. Duran invited the 952 voting members of the assembly to think of their own congregation. "It was once a new start," he said.
"Congregational renewal is recovering the 'first love' of mission which birthed our congregations," said Duran. "I see renewal happening throughout our church. In every place where the Spirit is moving us, in every place where the context calls us, renewal in our first love of mission is driving the renewal of our congregations."
http://blogs.elca.org/assemblynews/post/a-report-on-the-renewal-of-elca-congregations-13
Bishop Hanson tells assembly about Sept. 8 day of service
ELCA Presiding Bishop Mark Hanson reminded the 2013 Churchwide Assembly that on Sunday Sept. 8 the ELCA will observe the 25th anniversary of this church with a dedicated day of service. Wearing the bright, gold t-shirt designed especially for the day of service, Hanson told the assembly, "As we continue to celebrate our 25th anniversary year as the ELCA, we have a unique opportunity to recognize and celebrate how we are one church, freed in Christ to serve and love our neighbor.
http://blogs.elca.org/assemblynews/post/presiding-bishop-tells-assembly-about-gods-work-our-hands-sunday-16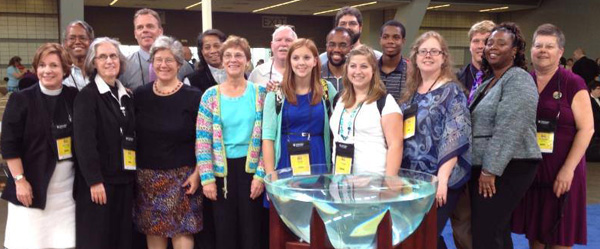 Our Synod was represented by:  Bishop Claire Burkat, Vice President Tracey Beasley, Secretary Ray Miller (a member of Church Council), Rev. Sandra Brown, Addie Butler, Rev. Michael Carlson, Malcolm Davis, Mark Goodwin, Christian Hicks, Rev. Gwendolyn King, Kendra Kramer, Rev. Cynthia Krommes, Jill Meuser, Rev. Jennifer Ollikainen, Sr. Jane Roper, Thomas Salber, Courtney Smith, and Rev. Larry Smoose. Linda Manson is also attending as a member of the task force for the criminal justice social statement.
Watch the Assembly online (recordings available)