Engage with two outstanding church leaders in plenary presentations and question and answer sessions. Louise Johnson will speak on change leadership; while The Rev. Dr. Soong-Chan Rah will talk about how the church can express generosity and vitality in the midst of our broken reality. Plus, 10 practical workshops!
Louise N. Johnson is a pastor of the Evangelical Lutheran Church in America (ELCA). She serves as the Assistant to the Presiding Bishop/Executive for Administration of the ELCA. Prior to her work with the ELCA, Johnson served as Director for Leadership Development for LEAD (www.waytolead.org), teaching and speaking on change leadership.
More

Johnson also served as the fourteenth president of Wartburg Theological Seminary, Dubuque, IA, where she led the seminary to its largest fundraising and enrollment years in the history of the school. Johnson also pursued an interest in organizational leadership, undergoing several courses including the completion of a Certificate in Leadership and Management from the Harvard Graduate School of Education. She continues to teach, speak and consult in change leadership in church organizations
"The Necessity of Lament in Troubled Times"
Rev. Dr. Soong-Chan Rah is Robert Munger Professor of Evangelism at Fuller Theological Seminary in Pasadena, CA and the author of Prophetic Lament (A Commentary on the book of Lamentations from IVP Books, 2015); The Next Evangelicalism (IVP Books, 2009); Many Colors (Moody, 2010); and co-author of Return to Justice (Brazos, 2016), Forgive Us (Zondervan, 2014), and Unsettling Truths (IVP Books, 2019).
More

Soong-Chan received his B.A. in Political Science and History/Sociology from Columbia University, his M.Div. from Gordon-Conwell Theological Seminary, his Th.M. from Harvard University, his D.Min. from Gordon-Conwell Theological Seminary, and his Th.D. from Duke University.

Rah is formerly the founding Senior Pastor of the Cambridge Community Fellowship Church (CCFC), a multi-ethnic, urban ministry-focused church committed to living out the values of racial reconciliation and social justice in the urban context.
---
Workshop Leaders
Click on images for more information
---
This is an in-person event. In addition to our keynotes, you have your choice among 10 informative workshops. Register early for in-person attendance and to sign up for your preferred workshops.
Cost: $40/person (includes lunch)
SEPA/NEPA seminarians and first-call pastors FREE
---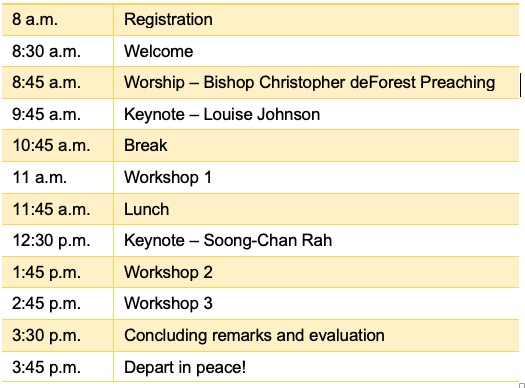 ---
Thanks to Our Sponsors
STEWARDSHIP OF LIFE INSTITUTE (SOLI)
The Larry House Memorial Fund for Stewardship Education at UNITED LUTHERAN SEMINARY
TRINITY LUTHERAN CHURCH, Lansdale, PA
REFORMATION LUTHERAN CHURCH, Media, PA
CALVARY LUTHERAN CHURCH, West Chester, PA
ADVENT LUTHERAN CHURCH, West Chester, PA
ST. ANDREW LUTHERAN CHURCH, Perkasie, PA
ST. MATTHEW LUTHERAN CHURCH, Springfield, PA
REDEEMER LUTHERAN CHURCH, Jamison, PA