2020 Philadelphia Servant Trip: Registration Now Open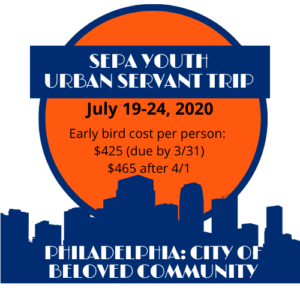 Join youth, young adult, and adult leaders July 19th – July 24th for a week of service right in our own city—Philadelphia! We'll stay in bunk beds at the Episcopal Mission Center, on the campus of St. Luke Episcopal Church in Germantown.
Our week will include learning about issues of poverty, hunger and homelessness while serving with our local Philadelphia neighbors.
We'll serve various nonprofit organizations during the day, then gather in the evening for small group conversations and fun together in the City of Beloved Community.
Youth who are 14-18 years old are invited to participate.
Each congregation must provide an adult leader/driver for every 5 participating youth.
Limited Spaces Available
Download Infomation Letter: 2020 Servant Trip Information
---