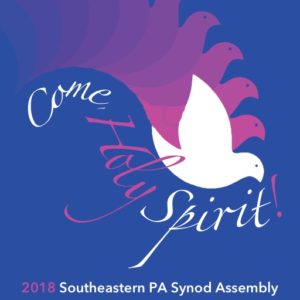 The Discernment Team for the 2018 Bishop's election held Bible studies across our synod on Saturday, Feb. 10 to introduce congregational leaders to the election process and to discern the leadership gifts needed with prayer and dwelling in the Word. The session held at United Lutheran Seminary was also live streamed and recorded.
Next Steps
We are now in the second, discernment stage of the election process. This process, which is new for our synod, was approved by the 2017 Synod Assembly.
These Bible studies, taken directly from the ELCA Toolkit for Election of a Bishop, focused on Exodus 18 and were designed to allow rostered and lay leaders to discern together the gifts needed in a bishop. (Scroll down for video highlights.)
Now you are invited to prayerfully consider individuals who might possess the necessary gifts. The new pre-identification process works like this:
Any ordained minister in the ELCA, active or retired, is eligible for election.
Review the Mission Profile and Synod Overview documents.
If you identify a person gifted to serve as bishop, you are asked to contact them, and ask them to prayerfully consider whether they would be willing to stand for election. Ask them to pray on this for a week and get back to you with their answer.
If the person responds affirmatively, you are asked to fill out the Pre-Identification form and return it as soon as possible to Ms. Beasley via email at vp@sepa.org.
The vice president will contact the individual to confirm their interest and ask them to complete the information forms required of all candidates who advance in the balloting.
After the person returns these forms, they will be posted on the synod website for review until April 5, 2018. An identified person may choose not to have this information publicized if they so desire.
On April 5, information about pre-identified individuals will be removed from the website.
Pre-identified individuals are NOT considered nominated for the election, to be held at the Assembly May 4-5.
Only individuals nominated on the initial, ecclesiastical ballot on Friday, May 4, will stand for election.
If you have questions about the process, please contact Ms. Beasley at vp@sepa.org.
Video highlights:
Introduction to the process by Vice President Tracey Beasley:
Bible study reflection by Seminarian Lenny Duncan (approved for ordination and awaiting call). Keep watching for discussion of Bible study questions:
Explanation of next steps by Vice President Beasley:

Questions? Contact Vice President Tracey A. Beasley at vp@sepa.org.